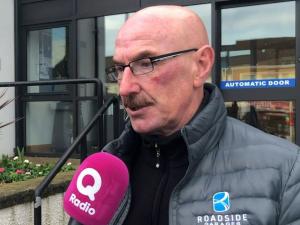 Liam Beckett MBE
Q Radio News
A number of local charities have received a donation from Ballymoney's 'Black Santa'.
It comes just three months after local man, Liam Beckett MBE, did his annual sit out in the Diamond to raise money for organisations including The Salvation Army, St. Vincent de Paul, The Samaritans, Drop Inn Ministries and Compass Advocacy.
Last Christmas marked Mr Beckett's eleventh year doing the sit out.
Yesterday evening, a reception was hosted by the Mayor of Causeway Coast and Glens Council, Councillor Brenda Chivers, where Liam presented the cheques to the good causes.
The total amount raised in 2018 was £12,000, with each charity receiving £2,400.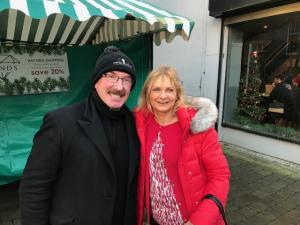 (Liam Beckett MBE braving the cold during his sit out in Ballymoney, Christmas 2018)
Q Radio has been speaking to Liam Beckett MBE, who says he's overwhelmed again by the support of local people.
He also says he planned to step down as 'black santa' but will be returning for at least one more year:
Meanwhile, Carol Nicholl from Samaritans and Linda McKendry from the charity 'Can' says the donation will be used to run their organisations and help local people:
Mayor of Causeway Coast & Glens, Brenda Chivers said 'I would like to commend Liam for what he has done for the community and charities involved.'
Councillor Darryl Wilson said 'Can I take this opportunity to congratulate Liam on his 2018 fundraising efforts. Liam has raised countless thousands of pounds for various worthwhile charities. I am delighted to learn that Liam will be continuing his annual black Santa campaign and I would like to wish him every success in the future.
To conclude the presentation Alaistair Coyles said 'Liam Beckett will be hard shoes to fill, and I will do my best to fill them. I could also be the first singing Santa.'
In a video interview to Q Radio and Causeway Coast Community Liam revealed that following his recent visit to Africa, he has now taken the vital decision to continue fundraising for those in need. His good friend and well-known country artist Alastair will assist in the 2019 sit-out with a view in taking over in the coming years.