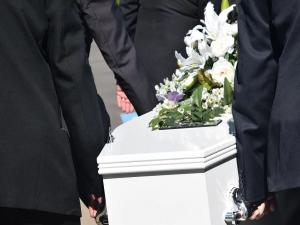 by Gráinne Connolly
A County Tyrone funeral director says there is fear amongst those in the sector about handling those who have passed away with coronavirus.
The man who doesn't wish to be named, has been tasked this week with the funeral of a COVID-19 patient.
To date, 99 people have now lost their lives to coronavirus across the island of Ireland.
The undertaker told Q Radio he had to seek help from local doctors in his area and the mortuary at the hospital before collecting and transporting the body, as there was no specific guidance given to him by the government or organisations.
"I haven't handled the covid body yet but will be in the coming days.
"I phoned the hospital mortuary where the deceased passed away and they advised me on how to put the body into the coffin and transport it to its place of burial or cremation.
"I'm thankful to two local doctors, only for them, there was a lack of guidance given to me. Maybe you have to be a member of the organisation for funeral directors to receive guidelines, which I am not."
Meanwhile, the undertaker said the pandemic has left him worried about carrying out his duties for those without the virus too.
He raised concerns about handling those who have died at home or in a nursing home setting with an underlying issue as they may have contracted the virus in the last few days of their life but wouldn't have been tested due to the other health problems.
He said it is now safer to treat all bodies they are unsure about, as if they had the virus.
In order to protect himself and others, the undertaker confirmed he would not be embalming anyone who has had coronavirus as the infection can be passed on through bodily fluids.
However, he said there are some funeral directors still willing to conduct the embalming service and he is happy to pass bereaved families on to them if that is what they require at the difficult time.
Meanwhile, there are calls for the Department of Health to issue clear guidelines to undertakers during the COVID-19 pandemic.
West Belfast MP Paul Maskey said he has been contacted by many with concerns, similar to those of the county Tyrone undertaker, about handling those who have died from the virus.
Mr Maskey says no advice has been issued about measures and precautions undertakers should be taking to protect themselves, staff and grieving families.