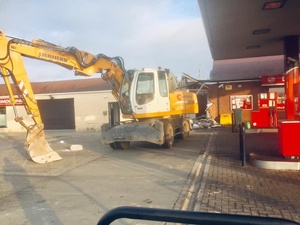 ATM theft in Omagh
Q Newsdesk
A twenty-nine-year-old man has appeared in court on offences connected to ATM thefts in Omagh and Fermanagh, which are alleged to have been committed whilst on High Court bail for blackmail.
Matthew Joseph McLean from Glenpark Road, Gortin, dressed in a blue rally team fleece and jeans, faces four charges, three of which relate to 9 May.
These involve possessing and concealing criminal property as well as handling stolen properly, namely a low-loader.
There is a further charge from 14 February in which McLean is alleged to have stolen an Ifor Williams trailer to the value of £2000.
A detective constable told Dungannon Magistrates Court she believed she could connect McLean to all charges.
Outlining the details, the detective explained police conducted a search of a shed in Beragh and recovered a £60,000 Hitachi digger, a trailer and a 40ft low-loader.
The digger was confirmed to have been stolen from premises in Eglish in February although it is not suspected of being involved in any ATM thefts.
However, the trailer and low-loader are believed to have been used in a raid in Omagh in 14 February and again in Irvinestown on 23 March.
The stolen trailer has been identified by the owner but whilst it has been established the low-loader is stolen, the owner has yet to be traced.
The detective said the owner of the shed advised he leased it to McLean on 9 April, and confirmed none of the items recovered were there prior to that date.
McLean was arrested and during interview given opportunities to account for the items but made no comment replies to all.
Objecting to bail the detective stated, "The owner of the shed is known to the defendant and police fear there may be interference as he has given statements. In addition, in February 2017, the defendant was convicted of conspiracy to blackmail using violence to extort money. For that he received a suspended sentence. He is also currently on High Court bail for other alleged blackmail matters using threat of violent to extort money. It should be noted these latest were alleged committed whilst on High Court bail."
She added, "Police believe some items recovered are linked to ATM thefts in Omagh and Irvinestown. We are aware of the impact these matters are having on the rural community. Police have an obligation to protect the public from further crime."
Under cross-examination by a defence lawyer the detective confirmed the only evidence currently against McLean is the two statements given by the shed owner, and there was no contract or agreement in place for the lease.
The defence argued bail could be agreed as his client has abided by the High Court terms in respect of alleged blackmail without any breaches over a lengthy period.
But District Judge John Meehan held whilst the evidence is at this stage circumstantial, there is a strong prosecution case.
Throwing out the application, he remarked, "These are very serious matters. This man has been convicted of blackmail-related offending in the past and is on bail for others. The question if witness interference is relevant. The defendant is a prolific offender and I refuse to grant bail."
McLean was returned to the cells, glancing briefly toward a number of people seated in the public gallery.
He will appear again by video-link at Omagh Magistrates Court on 4 June.