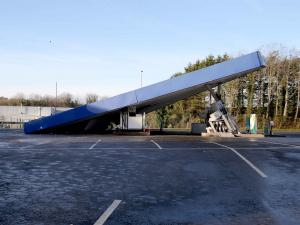 by Q Radio News
A 25-year-old man has been charged in connection with the attempted theft of an ATM in Ballynahinch on Monday.
Extensive damage was caused to Carlisle's Fresh Foods and petrol station forecourt on the Belfast Road after thieves attempted to steal the machine using a digger.
The suspect has been charged with burglary, criminal damage endandering life with intent and aggravated vehicle-taking causing damage to property.
He will appear before Downpatrick Magistrates' Court tomorrow.
As is normal procedure, all charges will be reviewed by the Public Prosecution Service.
Meanwhile, Detectives have also arrested a 22-year-old woman in relation to this investigation on suspicion of handling stolen goods and attempting to pervert the course of justice.
She remains in custody assisting police with our enquiries.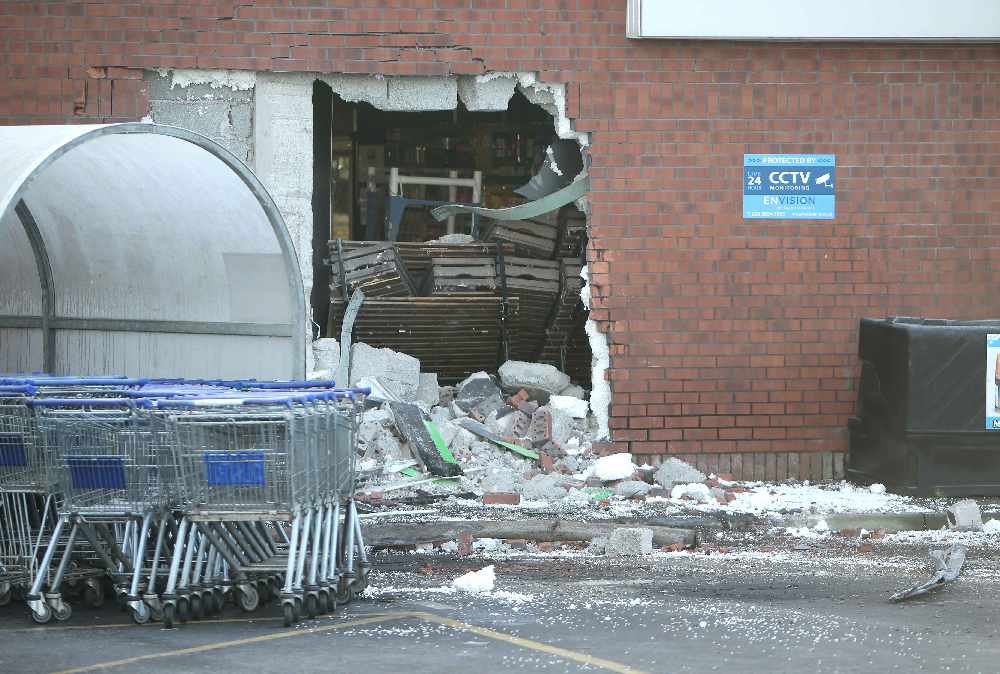 Earlier today, a 26-year-old man was remanded into custody accused of trying to steal the same cash machine on Monday.
Standing in the dock of Newtownards Magistrates Court, Adrian Boyd confirmed he understood the four charges against him.
Boyd, of no fixed abode, was charged with burglary of Carlisle's filling station, causing criminal damage to the petrol station canopy endangering life, aggravated vehicle theft of the front loading digger and theft of a trailer, all allegedly committed on 18 November this year.
None of the facts surrounding the charges were opened in court today (wed) but they arise after a gang used a digger in an unsuccessful attempt to drag a cash machine out of the wall of Carlisle's filling station on the Belfast Road in Ballynahinch, collapsing part of the roof of the garage.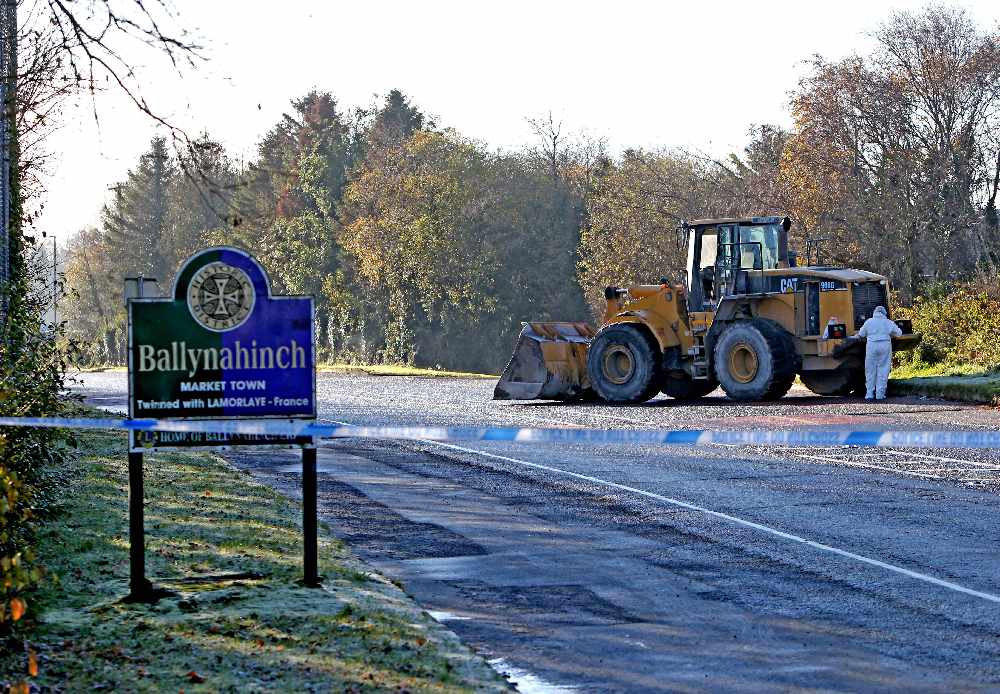 (The digger used during the incident in Ballynahinch being examined by forensics)
Appealing for information at the time, Detective Inspector Handley said the attempted theft "will have a significant economic impact on the business."
"A vital community resource that allows people to access cash instantly has also been impacted.
"The incident also had a widespread impact on the public as the Belfast Road was closed. I want to thank the community for their patience as we conducted our inquiries and worked to keep people safe."
Giving evidence to the court a police officer said he believed he could connect Boyd to each of the charges while a prosecuting lawyer told the court joe local residents contacted police at around 05:30 on Monday morning.
A short time later staff due to come on shift discovered the front of the shop had been rammed and the lawyer added that lottery scratch cards, cash and cigarettes had been stolen along with the failed attempt to steal the ATM.
As defence solicitor Mark Austin said there was no application for bail, District Judge Mark Hamill remanded Boyd into custody to appear again at Downpatrick Magistrates Court, via video link, next month.
A 25-year-old man arrested on suspicion of offences as part of the investigation remains in custody assisting police with enquiries, while a 24-year-old man has been released on bail pending further inquiries.