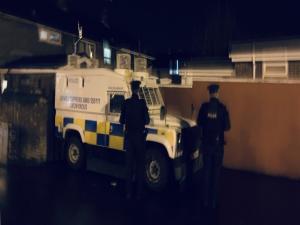 Police at the scene of shooting in Lisfannon Park, Derry-Londonderry (Pic by Leona O'Neill)
Q Newsdesk
A 20 year old man has suffered potentially life changing injuries after being shot in a paramilitary-style attack in West Belfast.
He was found in an alleyway in the Westrock Park area at around 8.30 last night.
The victim sustained gunshot wounds to both legs.
Detectives investigating a paramilitary style shooting incident in the Westrock Park area of west Belfast this evening. A 20yr man was found in an alleyway with a single gunshot wound to both legs. He has been taken to hospital with injuries described as potentially life changing

— PSNI (@PoliceServiceNI) 8 March 2019
Four men have been arrested in connection with the West Belfast attack.
Detective Inspector Barry Hamilton said:
"A number of searches under the Terrorism Act were carried out this morning in the Clonfadden Crescent, Iris Street, Albert Street and Whiterock Crescent areas. Items, including electronic devices were seized and have been taken away for further examination. "

"Four men, aged 33, 48 and two aged 39, were arrested under the Terrorism Act and are currently in custody assisting us with our enquiries."
Police are also investigating a separate - but similar attack in Derry-Londonderry.
Forensic teams have now arrived at the scene in the Bogside. The injured man was discovered by his mother who could hear his cries for help from the family home. Police say it was a 'brutal' paramilitary attack. @qnewsdesk pic.twitter.com/IWeJUMNxDy

— David Hunter (@davidhunter7) 8 March 2019
A 25 year old man was shot in both legs in the Lisfannon Park area of the Bogside at around 7.15pm.
Police say the victim's own mother heard him crying in pain and ran to his aid.
Local councillor Sharon Duddy has been speaking to Q Radio:
.@DerrySinnFein councillor Sharon Duddy reacts to tonight's news that a 25-year-old man has been shot in both legs in a paramilitary style assault in the Lisfannon Park area of the Bogside in Derry Londonderry. The man was found injured in an alleyway by his mother. @qnewsdesk pic.twitter.com/O6uE63pTgm

— David Hunter (@davidhunter7) 8 March 2019