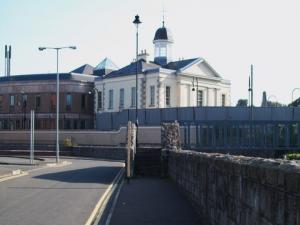 Newry Courthouse
By Paul Higgins
The managing director of a Newry based haulage firm appeared in court today accused of involvement in one of the largest ever cannabis seizures in Northern Ireland.
Banbridge Magistrates Court, sitting in Newry, heard that while officers uncovered 750 kilos of herbal cannabis hidden in boxes of tiles in the trailer of a lorry which belonged to 34-year-old Gary McGeown, police also found empty tile boxes in the yard so they believe there had been an earlier shipment.
The mammoth seizure, the court heard, is estimated to be worth up to £10 million pounds.
McGeown, from the Belfast Road in Newry and who appeared at court by videolink from police custody, confirmed that he understood the five charges against him accusing the married father-of-three of importing cannabis, simple possession and possession of the class B drug with intent to supply on 30 March this year and two counts of being concerned in making an offer to supply cannabis between 30 March and 16 April last year.
During a contested bail application, prosecuting counsel Robin Steer told the court it is the police case that McGeown, the managing director of McGeown Logistics haulage firm, "is involved in the shipment of large quantities of drugs, as is evidence from this find."
He continued there were objections to McGeown being freed on bail due to fears that he would interfere with the ongoing police investigation and also that despite having a clear criminal record, "he would've had to outlay several million pounds with regard to this shipment so there's a risk of further offences that he will have to somehow make up this very significant financial loss."
Defence counsel Joseph O'Keefe confirmed with Detective Constable McBurney that McGeown had been "fully cooperative" with the police investigation, had answered all their questions, given officers full access to his haulage yard on the Rathfriland Road and lists of all employees.
He submitted that with a package of bail conditions, including a £30,000 cash surety available, the court could have "trust and confidence" that he would abide by those conditions.
Describing the offence as amounting to an "extremely sophisticated international operation," Deputy District Judge Trevor Browne said he was satisfied that the "stakes in this case are so high that there must be every incentive for anyone charged...to cover their tracks."
He said he was refusing bail due to the risk of the investigation being obstructed and remanding McGeown into custody, adjourned the case to 28 April.