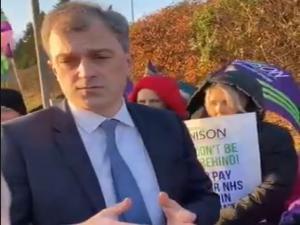 By Q Radio News
Nurses are among the NHS staff set to take to the picket lines at a number of major hospitals in Northern Ireland as a campaign of industrial action continues.
The Belfast Health Trust has cancelled 900 routine outpatient appointments today, however all hospital surgical procedures, inpatient and day cases will proceed as normal in its hospitals.
Outpatient appointments have been cancelled at the Royal Victoria Hospital, Belfast City Hospital and School of Dentistry.
All other outpatient appointments in Musgrave Park, the Mater, the Royal Belfast Hospital for Sick Children, Royal Jubilee Maternity and the Northern Ireland Cancer Centre are due to go ahead as normal.
Health workers are protesting "unsafe staffing levels" and the "lack of pay parity" with NHS workers in Scotland, England and Wales.
UNISON Regional Secretary, Patricia McKeown says nursing members at Londonderry's Altnagelvin Hospital will join health workers "demanding pay justice and safe staffing levels" for the public.
Day care centres in the Western Trust will be closed and a number of appointments in Children and Adolescents Mental Health Services postponed.
However the trust says all outpatient and "red flag" day case appointments at Altnagelvin will proceed as planned.
The Southern Trust, South Eastern Trust and Northern Trust said they did not anticipate having to cancel any services but added individual patients would be contacted if necessary.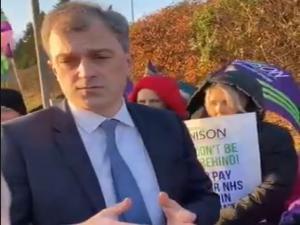 (Above: NI Secretary Julian Smith met with protesters on the picket line at Ulster Hospital last week)
Ms McKeown said a £28m pay offer by the Department of Health was rejected because it is insufficient.
"The Department is insisting that it cannot deliver pay parity in the absence of Ministerial authority, a position that is not credible in the face of this growing crisis," she added.
"We have written to the Secretary of State calling on him to use his influence to secure the full resources needed to secure pay parity.
"We have written to the leaders of the five parties that can form a future Executive asking them to clearly say to the Secretary of State that the health service should not be used as leverage in advance of the political talks scheduled for December 16th.
"Whilst we don't accept the Department's position that they need Ministerial authority to grant workers pay parity, we have also asked the party leaders to write directly to the Department telling them to implement pay parity and resolve this dispute.
"If the Department thinks it needs political cover then we don't see why this won't give that to them."
Meanwhile all UNISON members across the entire health and social services system will continue industrial action short of strike.
It includes: Ambulance service staff, support services staff, administrative, clerical and managerial staff, social services and social care staff, professional and technical staff in addition to all staff working across the various health services agencies.
The move comes after unions rejected a new pay offer by the Department of Health as insufficient.
The department has maintained it can not deliver more without a health minister in place at Stormont.
The Belfast Trust said it anticipated there would be significant disruption to services on Tuesday and Wednesday "with a number of outpatient appointments and a number of inpatient and day case treatments cancelled"
Nursing action short of strike includes a range of actions such as:
Not working excess/unpaid hours
Taking all contractual breaks
Commencing and completing duty on contractual hours
Not carrying out duties of other staff due to shortages
No bank and overtime shifts on days of industrial action
Western HSC Trust nurses and nursing assistants will be on the picket line at Altnagelvin Hospital from 8am this morning.
Belfast HSC Trust admin staff and occupational therapists, housekeepers and estates staff at Belfast City Hospital will also be protesting at the same time.