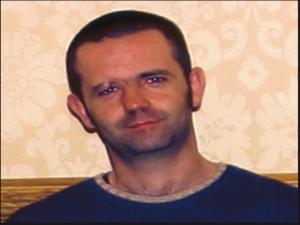 by Bob Huggins
Detectives investigating the disappearance of a county Tyrone man ten years ago have have ended a fresh search at Ardboe outside Cookstown.
Thirty two year old Gerard Conway was last seen in the Cookstown area in late January or early February 2007.
The search at Battery Road was undertaken as a result of new information.
The search used specialist resources including victim recovery dogs and a ground penetrating radar device.
The officer in charge of the investigation, Detective Chief Inspector Gareth Talbot, said:
Detectives from Serious Crime Branch investigating the disappearance of Gerard Conway in 2007 have completed the search of an address in Battery Road, Ardboe. Nothing untoward was found during this".
Gerard was last seen in the Cookstown area late January / early February 2007.
He was reported missing a short time later, however despite extensive enquiries by police over a number of years, there are no clues as to his whereabouts.
He is 6 feet tall and of medium build. He had short, dark brown hair and blue eyes and has a scar running through his right eyebrow and another above his right eye.