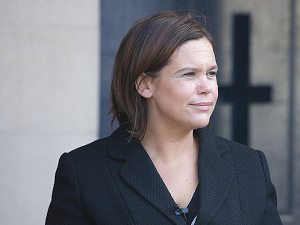 By Q Radio News
The Sinn Fein leader will speak to The Prime Minister on the phone later about the new power-sharing talks at Stormont.
Politicians got back around the negotiating table last week in an renewed attempt to restore Government in Northern Ireland.
The Britsh and Irish governments will play a crucial role in the process by setting the agenda with the main party leaders here.
Mary Lou McDonald says she'll tell Theresa May that rights and equality issues need to be addressed:
Speaking in advance of the call, Sinn Féin President Mary Lou McDonald TD said, "The talks in the North are now under way, working groups have been convened and the parties and governments have been met.
"Sinn Féin has entered these to resolve the outstanding issues, secure rights for all citizens, and to re-establish the power sharing institutions operating to the highest standards
"The issue outstanding are not intractable. They can and must be resolved. "Delivering good governance, the implementation of existing agreements and securing the rights enjoyed by citizens in the rest of Ireland is long overdue and will benefit all and disadvantage none.
"We have had a start to all-party talks, we need agreement and all-party power-sharing institutions back in place.
"The two governments are not spectators or referees in this process, they are co-equal guarantors of the people's agreements and rights.
"The actions of the British government, their deal with the DUP, imposition of Brexit and refusal to honour their obligations on the legacy issues of the past, has dogged this process for the last two years.
"I will be raising these issues directly with the British Prime Minister on Monday. I believe an agreement can be reached and genuine power sharing can be established.
"It will require the British Government to live up to its obligations under the Good Friday Agreement, to be rigorously impartial and to put the rights and equality of citizens above any short term party political concern.
"Sinn Féin is committed to these talks to re-establish genuine power-sharing and delivering change for all including the Good Friday generation that are now coming of age. "This British Government must do likewise."