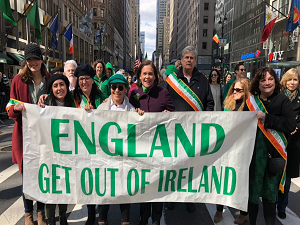 Chloe St John
Mary Lou McDonald is facing criticism after being photographed standing behind a banner which reads ' England - get out of Ireland'.
The Sinn Fein Leader was at a St Patrick's Day Parade in New York City when the image was taken yesterday afternoon.
It was then posted on the party's official Twitter page, with the caption 'no explanation needed'.
No explanation needed. @MaryLouMcDonald #StPatrickDay Parade #NYC pic.twitter.com/wgCdujHRTv

— Sinn Féin (@sinnfeinireland) 16 March 2019
Irish Foreign Affairs Minister Simon Coveney says it's offensive, divisive and an embarrassment.
Politicians across the political spectrum have spoken out against the incident:
@MaryLouMcDonald this is NOT leadership - it's offensive, divisive and an embarrassment - grow up, this is NOT #ireland in 2019! we are better than this! 🇮🇪 https://t.co/LUbfbvOe6l

— Simon Coveney (@simoncoveney) 17 March 2019
Respect and integrity just hanging out of them 🙄 Ireland has moved on - contrast Varadkar's confident, constructive tackling of prejudice with Pence yesterday and this grotty, lumpen kick just to keep the cash machine delivering for SF. Mirror image of the DUP.

— Claire Hanna (@ClaireHanna) 16 March 2019
It really is needed.

This banner is not just profoundly stupid (England is not now and never has been or could be in Ireland) but it sends out a hostile and offensive message to anyone English or of English extraction on this island.

Respect, Equality, Integrity anyone? 🙄 https://t.co/LBR2un38d5

— Naomi Long MLA (@naomi_long) 16 March 2019
Sinn Fein aren't capable of convincing unionists of anything. The rest of us will have a lot of heavy lifting to do. https://t.co/rGDMnrBExn

— Colum Eastwood (@columeastwood) 17 March 2019
DUP MP Gregory Campbell said:
"When slogans such as "Brits out" or "England out of Ireland" are used the unionist community are well within their rights to see themselves as the intended focus. The 'British presence in Ireland' is the unionist population in Northern Ireland. The Republican focus on "Brits" in the city of Londonderry saw thousands of unionists move out en mass from the Cityside as the IRA began their 'war'. "
"It's clear that republicans don't do explanations. Neither do they do apologies. They've never explained let alone apologised for the terror their armed wing conducted for so long. "
"There was never an explanation as to why furniture shops or school buses were considered to be 'legitimate targets'. There certainly has never been any apology for the IRA's indiscriminate bombing, sectarian murder or wilful use of torture. "
"Like truth and respect, explanations are demanded, but never offered by Sinn Fein."
Meanwhile DUP Foyle MLA Garry Middleton told Q Radio he felt it was distasteful:
In a statement to Q radio, a spokesperson for Sinn Fein said:
"The most divisive and offensive act on this island for almost the last 100 years has been the partition of Ireland.
"It should come as no surprise that Sinn Féin wants a new United Ireland under the provisions of the Good Friday Agreement.
"The faux outrage of some of our political opponents owes more to the silly season of a holiday weekend and petty political point scoring.
"However if Simon Coveney and the government is serious about achieving a new and agreed United Ireland then he should immediately convene an all-Ireland forum on Irish unity."