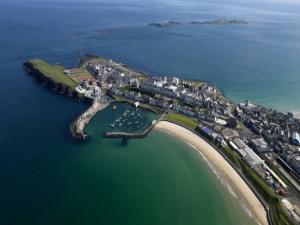 Portrush, Northern Ireland
Q Newsdesk
Crowds are expected to flock to the East Strand beach in Portrush this afternoon to witness the 'Polar Plunge'.
The fundraising event will see dozens of people take a dip in the ice cold water to raise money for the Special Olympics.
It's the first ever time the event has been held in the seaside town.
Shaun Cassidy is the Regional Director of Special Olympics Ulster:
A statement about the event said, "For the first time, the Special Olympics Polar Plunge is coming to Portrush and Special Olympics is calling on people across Co. Antrim and beyond to accept the challenge and plunge into the chilly Atlantic waters off East Strand."
"The freezing fundraiser takes place on Sunday 8th December. Crowds of people including families, Special Olympics athletes, businesses and individuals are expected to turn out to take part in this unique fundraising event, bravely plunging into icy cold waters, to raise much needed funds for the organisation and its athletes in the Ulster region."
"Special Olympics hopes the event will attract hundreds of plungers, both old and new."