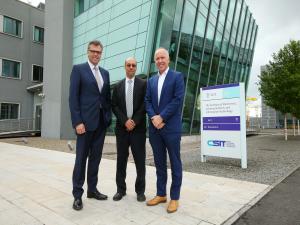 By Hannah Spratt
One week after a global cyber attack - a US based firm has announced it's creating 120 new jobs in Belfast.
Calafornia based Anomali says its investment will generate over 4 million pounds in salaries.
It will develop software designed to counter cyber attacks.
The money will be used to open its European Research and Development Labs in Belfast.
The posts are expected to be in place by the end of 2019.
Given the extend of last week's attack CEO of Anomali, Hugh Njemanze told Q Radio his company's announcement is timely...
Meanwhile, the Centre for Secure Information Technologies (CSIT) will generate investment of £38.5m research & development, which will encourage the growth of the cyber security sector here.
Welcoming the investments, Alastair Hamilton, CEO of Invest NI said: "Northern Ireland is enjoying a growing international reputation as a region of expertise and knowledge in cyber security. Today's announcement of both a new inward investor, the Anomali and a significant investment by CSIT will only see this reputation continue to grow."
Northern Ireland is the number one location in the world for cyber security inward investment and the number one global destination for US cyber security.
Dr. Godfrey Gaston is Director of CSIT...