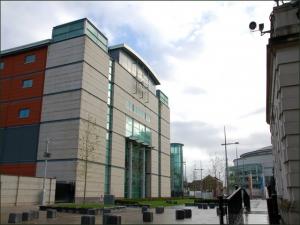 Copy by Paul Higgins
An alleged car thief was remanded into custody today (sat) after a police officer branded him a "dangerous and volatile individual."
Appearing at Belfast Magistrates Court via videolink from police custody, 35-year-old Patrick Harmon spoke only to confirm that he understood the 11 charges against him, all of them allegedly committed on 2 July this year.
Harmon, from Belfast but whose address was listed as c/o Maghaberry prison, was charged with wounding with intent to cause GBH, possessing a weapon, robbery of car keys, theft of an IPod, charger and leads, criminal damage , three counts of assaulting police and three driving offences alleging car theft, driving while banned and without insurance.
Giving evidence to the court, a police officer said he believed he could connect Harmon to each of the charges, adding that police were objecting to bail due as he "poses a very high risk of reoffending."
The officer revealed that Harmon has 200 previous convictions with the large majority for motoring offences but also convictions for hijacking and robbery, and was only released from prison in May.
"Police believe he is a volatile, dangerous individual who poses a risk of serious harm to members of the public," declared the cop.
Defence solicitor Michael McCoy accepted that Harmon "has a bad record" but submitted there has been a gap in his offending, adding that Harmon has denied the offences.
District Judge Fiona Bagnall told the lawyer however "I appreciate there's a bit of a gap in the record but that's because he has been in prison."
"I'm sorry but the likelihood of reoffending is too high," said DJ Bagnall who remanded Harmon into custody to appear again on 31 July.