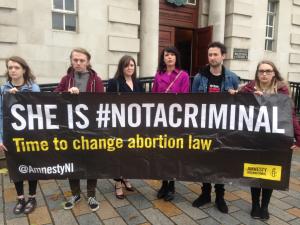 by Rebecca Black, PA
There has been anger among the pro-choice lobby that the Stormont Executive has not set up termination services.
Strict abortion laws in the region were overturned on March 31 following a change to the law voted in at Westminster last year.
Decisions have not yet been made by Stormont officials on how to put the new legislation into practice in the region.
Women in England will be able to have a medical abortion at home using termination pills during the coronavirus lockdown period.
That option has not been made available to women in Northern Ireland.
The Department of Health had intended that women continue to travel to England for terminations. However, restrictions on travel due to coronavirus have placed the arrangement into difficulty.
The Executive had been due to discuss the issue at its meeting earlier on Monday.
Speaking afterwards, health minister Robin Swann said: "It was discussed at the Executive today and the decision is with the Executive."
Alliance for Choice expressed frustration and claimed Stormont is "blocking" abortion services.
Naomi Connor, Alliance for Choice co-convenor in Belfast, said: "The World Health Organisation notes that abortion is essential healthcare in a pandemic, and yet the Northern Ireland Office and the Department of Health in NI have found it acceptable to do absolutely nothing, except to release videos extolling travel to England for treatment, when the reality of clinic accessibility is limited to an eight-hour each-way freight ferry with no companions and only for those who are not quarantined or self-isolating."
DUP MP Carla Lockhart spoke of her alarm at the idea of abortion pills being taken in the home without medical supervision.
"Regrettably, lobby groups, desiring widespread access to abortion here, wasted no time in seeking to go even further than the regulations already permit, allowing both abortion pills to be taken at home without medical supervision," she said.
"We are fully aware of the many issues which the ongoing coronavirus pandemic is causing. However, we do not believe this crisis necessitates such a radical step as allowing for telemedicine abortions here. It is not the right way forward for women or for unborn children.
"We will continue to advocate at every opportunity for a change in the law here so that once again Northern Ireland values both lives in a pregnancy."
Earlier Northern Ireland Secretary Brandon Lewis said travel is currently appropriate for medical needs.
"Travel should only be for essential travel, one of those key points is a medical need or the need to provide medical care and support to other people. So if there is a medical need for someone to travel, that is something that is appropriate within the guidelines," he told the BBC.