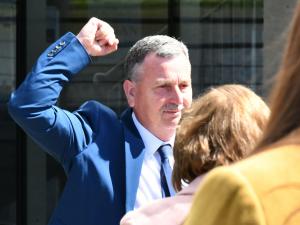 (Ballymurphy shooting victims' families at Belfast Coroner's Court where verdicts were being delivered on the deaths of ten people shot dead over the course of internment weekend in August 1972)
By PA
There were joyous scenes outside the coroner's court in Belfast as families emerged holding placards with the faces of their loved ones with the words "innocent" written on each.
The inquests focused on five separate incidents.
The first was the shooting of parish priest Father Hugh Mullan, 38, and Frank Quinn, 19, in the Springfield Park area of Ballymurphy around 9pm on August 9.
In the second incident, outside an army barracks at the Henry Taggart Hall on Divismore Park, Noel Philips, 19, Joseph Murphy, 41, Joan Connolly, 44, and Daniel Teggart, 44, were fatally wounded by gunfire.
In the third incident, the following day, Eddie Doherty, 31, died after being shot on the Whiterock Road as he came across an encounter between soldiers and protesters who had erected a barricade across the road.
In the fourth incident, on the third day of shooting, Joseph Corr, 43, and John Laverty, 20, were shot in the Whiterock Road area in the early hours of the morning. Mr Corr died 16 days later from his injuries.
In the fifth incident, former soldier John McKerr, 49, was shot later that morning on Westrock Drive close to Corpus Christi Church as he took a break from maintenance work. He died of his injuries on August 20.
Ballymurphy family relatives gather outside the Waterfront Hall in Belfast after a coroner found all ten victims shot dead in 1971 were entirely innocent. pic.twitter.com/ef9o5Nro2v

— Q Radio News (@qnewsdesk) May 11, 2021
Relatives cheered and embraced as they celebrated the rulings.
Maura McGee, one of Joan Connolly's daughters, reacted to suggestions that the Government is seeking to prevent historic prosecutions of military veterans.
"I don't agree with an amnesty for anybody," she said.
"I think you have to go where the evidence leads you and if the evidence shows there was foul play whether you were wearing a uniform or a paramilitary uniform or you were wearing a T-shirt and jeans – if you killed someone you should answer for it."
On the ruling of her mother's innocence, she said: "We're absolutely delighted."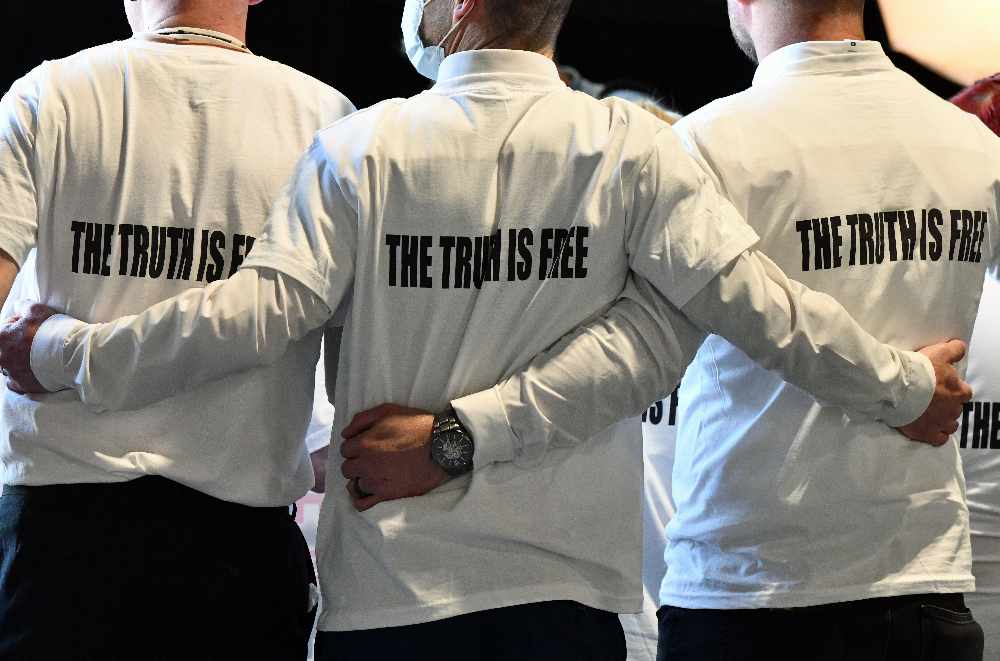 (Ballymurphy shooting victims' families at Belfast Coroner's Court where verdicts were being delivered on the deaths of ten people shot dead over the course of internment weekend in August 1972)
Mrs McGee spoke of the pain of having to conceal the circumstances of her mother's death for 50 years, due to the cloud of the unfounded allegation she was a gun woman. She said they often told people her mother had died in a car crash.
Mother-of-eight Joan Connolly was branded an IRA gunwoman by the Army after she was shot in 1971.

After 50 years of fight to clear her name, her daughter, also called Joan, feels vindicated. pic.twitter.com/79Wym4eaIL

— Q Radio News (@qnewsdesk) May 11, 2021
"We always knew she was innocent but to have her declared innocent in the eyes of the public and the rest of the world, it's something that we didn't expect would ever happen," she said.
Another of Mrs Connolly's daughter's Philomena Morrison said: "She was an innocent person and they took her from us and we lost out on having her all of those years."
The daughter of Joseph Corr, who was killed in the Ballymurphy massacre, has said the inquest verdict had gone further than she had hoped.
Eileen McKeown said: "I was expecting them just to say they were innocent. But when she turned around and said that my daddy and John Laverty weren't gunmen, and never should have been branded gunmen, that was really brilliant to hear that."
She said the 50-year battle for justice had taken an enormous toll on her family.
"We have fought long and hard for this, for 50 years, to declare my daddy an innocent man.
"My mummy died knowing he was innocent but not getting any justice. I have lost four brothers to this, through the stress and the trauma that they had to live through.
"My brother Joe was with my daddy when he was shot. He lived with survivor's guilt for years because of the fact that he left his daddy."
Ms McKeown said she had felt unable to speak about her father before because of the claims made against the Ballymurphy victims.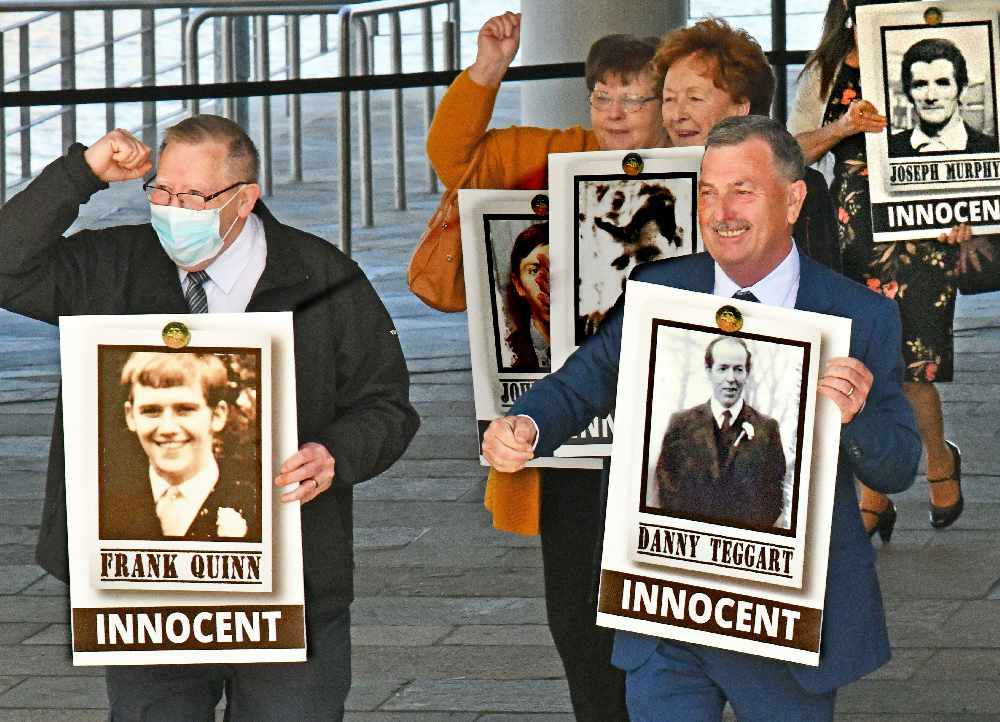 (Ballymurphy shooting victims' families at Belfast Coroner's Court where verdicts were being delivered on the deaths of ten people shot dead over the course of internment weekend in August 1972)
She said: "It's been a nightmare. No matter where you went, people would be asking you what happened to your daddy.
"You were afraid to say what happened to your daddy because he was shot, and because of what was written in the history books: that IRA gunmen were shot in Ballymurphy in 1979.
"People just presumed that they were guilty because of what was put out in the media and what the Army said."
Alice Harper reacts to the Ballymurphy Inquest findings that her father Daniel Teggart was an unarmed innocent civilian. pic.twitter.com/iDeXV6DmqA

— Q Radio News (@qnewsdesk) May 11, 2021
Geraldine Douglas, another daughter of Joseph Corr, said: "It also means that the grandchildren and great-grandchildren don't have to keep fighting the way Eileen has fought for our family for all these years.
"The fight is won, big time."
Patrick Doherty said he felt a sense of relief after the coroner ruled the use of force in shooting his father Eddie was disproportionate.
Mr Doherty said: "It is a weight off my shoulders, it's been 50 years of serious hard grief and pain, I just feel serious relief.
"I wish my mother could have been here to see it. My mother died six years after my father and it is just relief.
"We have always known he was an innocent man, we have always known everyone was innocent and it took 50 years.
"There is a sense of happiness that we have finally cleared our loved ones' names.
"It has been a long fight. My father was shot in the back and murdered. My father wasn't in the IRA."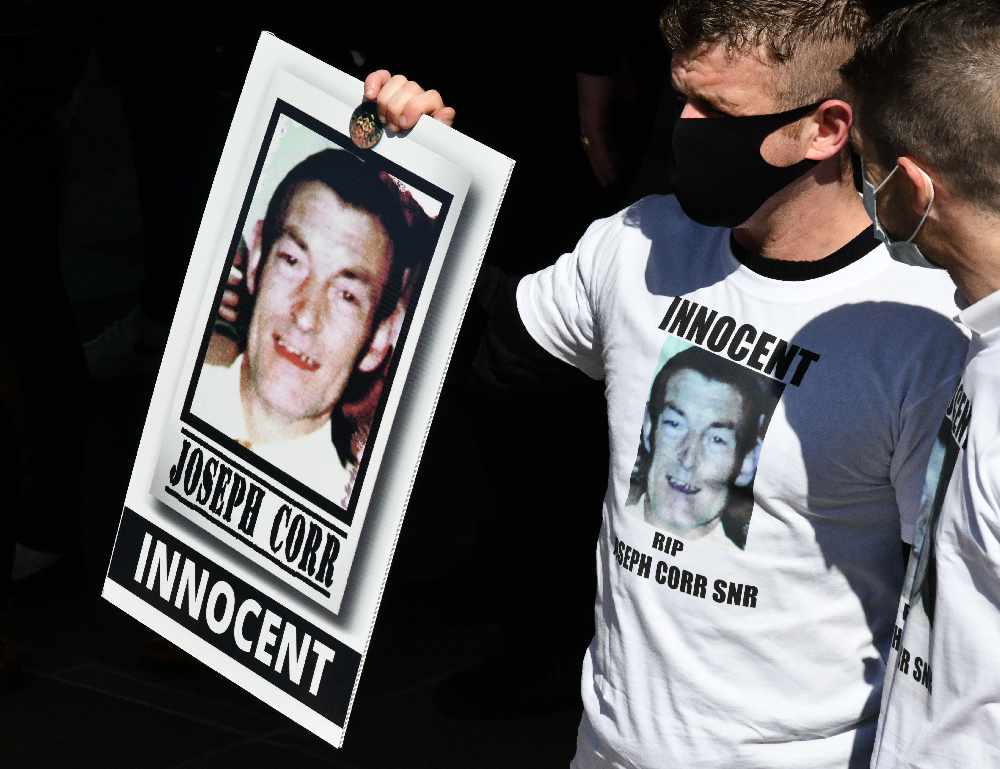 (Ballymurphy shooting victims' families at Belfast Coroner's Court where verdicts were being delivered on the deaths of ten people shot dead over the course of internment weekend in August 1972)