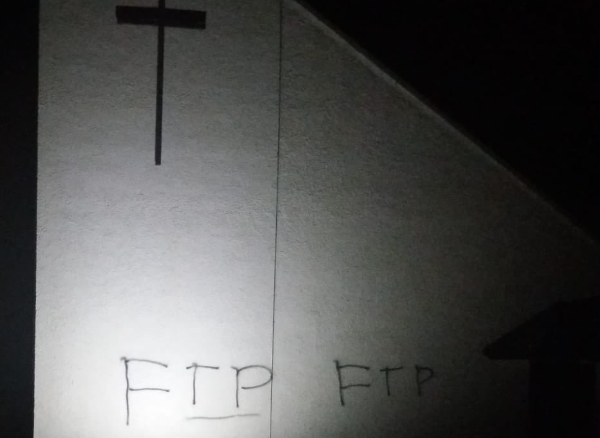 Q Newsdesk
Police are treating a grafitti attack on a catholic church in Kilrea as a sectarian hate crime.
A controversial acronym was daubed on the front wall of the property on the Garvagh Road late last night.
Mayor of Causeway Coast and Glens Sean Bateson says it's deliberatley provocative:
Visited the local parish priest in Kilrea this morning to offer my support following this despicable act last night. Obviously annoyed that this happened especially within Kilrea. The sick graffiti has since been removed and hopefully this is the end of such instances

— Sean Bateson (@BatesonSean) 6 July 2019
Inspector Stephen McCafferty said: "We received a report just before 1am this morning, Saturday 6 July, that graffiti had been spray-painted on the front wall of the property.

"The incident is being treated as a sectarian hate crime, and I would appeal to anyone who has any information about the incident, or who saw any suspicious activity in the area, to contact officers on 101, quoting reference number 66 of 06/07/19.

"Alternatively, information can be provided to the independent charity Crimestoppers on 0800 555 111, which is 100% anonymous and gives people the power to speak up and stop crime
This is graffiti spray painted on St. Chapels in Kilrea tonight. This is absolutely horrendous & a blatant sectarian hate crime in its worst possible form at a place of worship. I condemn this in the highest possible fashion & call on anyone with any info to report it 2 the PSNI pic.twitter.com/OguR9qOHLg

— Sean Bateson (@BatesonSean) 6 July 2019
Local SDLP Councillor Helena Dallat O'Driscoll said:
She said:
"These people represent no one but have the potential to send out the wrong message that Kilrea is some kind of place where this kind of behaviour is acceptable. It is not and for many years has been a shining example of how a town should be, a neutral space for everyone to shop, do business in and come and socialise in. There is no graffiti, no painted kerbstones, and nothing but goodwill. "
"Our schools are the very best; our churches, our community groups and not least our people have worked hard to create a space, a town where everyone is welcome, where new shops have opened and everyone is comfortable coming to shop in it. That is the way it is and the individuals who have done this have probably already blighted their own communities with messages of hate and it would be good to have them caught."
"In the meantime, we will redouble our endeavours to ensure that this is not repeated, that there is no retaliation because that would be in no one's name and would only serve the perverted thoughts of those who did this."
"St Anne's Church is shortly planning its 25th Anniversary; it is a place of worship where people visit every day to pray and reflect on the Christian message. It is served by an outstanding Parish Priest who is loved and respected by people from all denominations. "