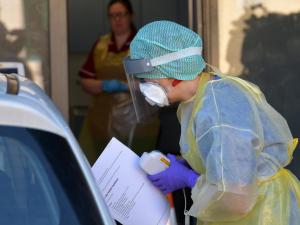 By David Young, PA
A healthcare staff testing facility for Covid-19 will start operating in Northern Ireland at the weekend, with kits made by local manufacturer Randox.
Health minister Robin Swann said he hoped the announcement would allay concerns that Randox kits would be distributed elsewhere in the UK before they came back to the region where they were made.
The testing facility will run in the car park of the SSE arena in east Belfast.
Randox is one of the suppliers the UK Government is using to scale up testing of healthcare staff.
Stormont's health committee heard concerns on Thursday that the link-up would mean kits produced in Co Antrim would first have to be shipped to England, before making their way back to Northern Ireland by way of allocation decisions taken in Whitehall.
Mr Swann said Randox kits would be in use in Northern Ireland from the weekend.
"The first Northern Ireland staff testing site from the UK-wide initiative goes live this weekend at the SSE arena car park," he said.
"So that's the Randox staff testing initiative on the ground in Northern Ireland this weekend.
"I trust that will allay some of the concern and speculation we have had of late."
Mr Swann said that in a separate initiative the main universities in Northern Ireland were working on a project to increase diagnostic testing in the region.
In a statement on Friday, Randox said it had acted to ensure that tests would be made available locally.
"We understand that the national plan for the testing of key workers is exactly that, a national plan, inclusive of Northern Ireland," it said.
"Initially relatively small numbers of tests were sent to the areas of significant national threat in London.
"The planning for the national distribution of test kits is being managed by the various relevant statutory agencies, however Randox has made the case that tests should be made available locally.
"Following that engagement, tests have now been made directly available within Northern Ireland and Randox will continue to support Northern Ireland within the UK national plan.
"Randox have acted with speed and initiative throughout this crisis and will continue to ramp up our testing capability to support the national testing plan for key workers in Northern Ireland.
"Every part of Randox's business is focused on doing everything we can to support the Covid-19 testing programme, to both save lives and ensure the speediest possible return to a more normal society."