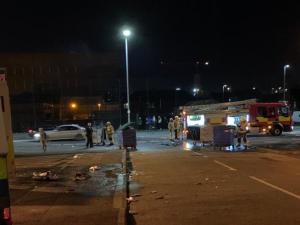 By Q Radio News
Fire crews have come under attack during a night of violence in north Belfast.
A large number of youths set bins on fire, blocked roads and threw fireworks and missiles in the New Lodge.
A nursery school was also damaged during the disturbance which police say shows a "total lack of respect" for the wider community.
Footage is currently being examined by detectives.
Tonight in New Lodge, a large number of youths showed a total lack of respect for their community. Bins set on fire, roads blocked, Nursery School damaged and Fireworks & missiles thrown out onto the road. NIFRS were also attacked. Footage will be examined to ID those involved. pic.twitter.com/i2EuUcNabx

— Police North Belfast (@PSNIBelfastN) October 23, 2020
Councillor JJ Magee has demanded an immediate change of strategy from the PSNI following the trouble which he said flared near the interface with Tigers Bay.
"There has been ongoing trouble for a number of weeks at this notorious interface and tonight witnessed a serious assault on a young man and serious anti-community trouble that demanded police resources," he said.
The Sinn Fein representative says he has stressed "for many weeks" that PSNI should change their strategy in order to bring this trouble to an end.
"However, their strategy has not changed," he added.
"There have been multiple meetings with the police - including meetings in partnership with DUP councillors - where we have been adamant that the PSNI plans in the area are not working.
"We know from many years experience at calming tensions at delicate interfaces that if the Police deploy a static presence there is a less chance of interface trouble happening.
"Regrettably, PSNI have chosen not to deploy these reasonable and effective tactics.
"The only people who are suffering here are the good people of New Lodge and Tigers Bay. This has gone on for too long and many good people are saying "enough is enough".
"My party at all political levels in North Belfast are calling on the PSNI to listen to political representatives from across the spectrum, community/youth workers and residents and deploy the correct tactics to deal with this potentially critical situation."