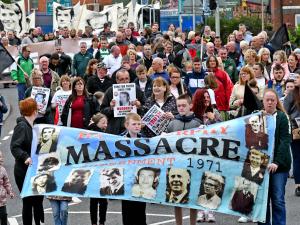 By Q Radio News
Hundreds of people marched through west Belfast today to mark the 48th anniversary of the "Ballymurphy Massacre".
In 1971 during the weekend of internment ten people were shot dead by the army over three days.
Relatives of people killed in other controversial shootings joined with members of Sinn Fein including former President Gerry Adams in supporting the Ballymurphy families.
The inquests into the Ballymurphy deaths resume at Belfast Coroner's Court in September.