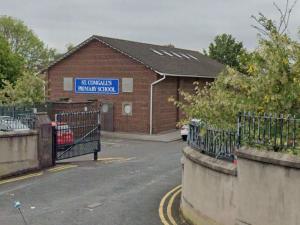 By Q Radio News
A primary school in Co Down has decided to close its doors after "several" cases of coronavirus were confirmed..
The principal of St Comgall's Primary says the decision to shut for 14 days was approved "at a higher level".
MLA Andrew Muir says he's worried about the consequences on children's learning and wants to know why the decision has been taken.
Cathy Hunter insists she had "no other option" but reassured pupils and parents that there is "no need to panic".
Young people from two separate classes have been told to self-isolate and the school plans to reopen on October 12.
In a message to parents, Mrs Hunter said the move was to "protect the health and safety of the whole school community" after a further case was identified within the school community.
In a further statement, Mrs Hunter said: "It is in the best interests of the staff and pupils at this time for the premises to remain closed for two weeks but the school remains very much open with online learning commencing from tomorrow morning.
"The safety of all at the school is paramount to the staff and the Board of Governors and this decision has not been taken lightly.
"The education of the 309 pupils will remain our priority."
Along with the closure of St Comgall's Primary, S t Patrick's Primary in Saul, Co. Down has this morning announced it would need to close following two confirmed cases of COVID-19 amongst staff.
In a statement about the closuthe Principal Mr McGrath said, "After consultation with CCMS and our governors we have decided the safest course of action to protect the heath and safety of the whole school community is to CLOSE until we get advice from the PHA.
"This has not been forthcoming just yet."