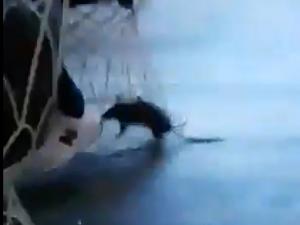 By David Hunter
A shocked diner has described the moment a rat was spotted scurrying around a popular Northern Ireland restaurant before being trapped and killed in front of customers.
Stephen Houston was at the Ramore Wine Bar with friends on Tuesday evening and had just ordered a meal when the apparent commotion began.
The animal can be seen on a video posted online running through a restaurant, with diners screaming and climbing on seats.
At one point it jumped, and appears to have landed on Stephen's leg.
LISTEN:
Restaurant staff can be seen trapping the rat in a chair with two brooms before it was stamped on repeatedly.
We're told it was then taken away and disposed of, but customers say it left blood on the floor of the popular eatery.
Some shocked customers took to social media to express their disgust at the way the rat was killed and disposed of.
Mr.Houston said the Portrush restaurant continued to serve food in the moments after the commotion, before the clean-up was complete.
Q Radio has not posted the video due to the nature of the content.
Our Journalists also contacted the Ramore for a comment, but have been told there will be no spokesperson or statement available.