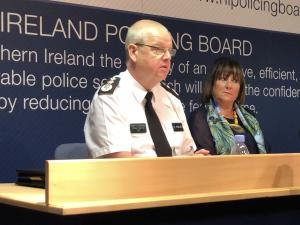 By Rebecca Black PA
Northern Ireland's chief constable has said his officers will mediate before moving to enforcement to implement the coronavirus lockdown.
The PSNI is set to receive new powers similar to officers in England and Wales against those who ignore social distancing rules.
Fines are expected to be handed to people who continue to flout tougher restrictions on movement.
The powers have not yet been signed off by the Northern Ireland Executive.
First Minister Arlene Foster said the Executive would work with the PSNI around "appropriate" levels of fines.
"Of course, we would much prefer if people heeded the advice and we didn't have to resort to enforcement," she added.
PSNI chief constable Simon Byrne said his broad assumption was that the powers would be "very similar" to those police in England and Wales have received.
"Clearly, that final decision is a matter for the (Northern Ireland) Executive and we are working very closely behind the scenes to be clear that the legislation is workable and that we're in a position to enforce it," he said.
Mr Byrne said officers would be told to engage with the public first, but warned enforcement would be used if necessary.
"Discretion and common sense remain at the heart of policing," he added.
"Officers will be told to engage with the public, to explain what the new powers are, to encourage people to adopt them and to go home and to stop their work.
"But equally, if we have to we will enforce the law once the new powers are with us and are made clear."
Speaking at a press conference in Stormont on Thursday, Mr Byrne also revealed that steps had been taken to reduce the number of people at work in the PSNI in non-essential roles.
"We are applying a rule, one in three, to make sure that some of the work that goes on behind the scenes to keep policing ticking we can do by remote working or by a rota system to manage work space and how many people are there," he said.
Also speaking at the Stormont press conference, assistant chief constable Alan Todd gave reassurances over concerns voiced around the availability of personal protective equipment for officers.
"We understand that policing isn't a zero-risk business, never has been and never will be, but we're not prepared to take unnecessary chances with our people," he said.
"We are doing our level best to make sure we have a maximum amount of stock and we have it in the right places at the right time."