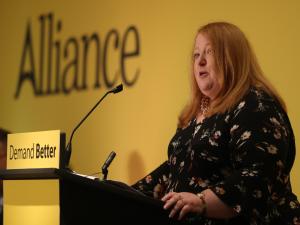 Alliance leader Naomi Long MLA.
by Q Radio News
The leader of the Alliance Party says she is disappointed the Health Minister hasn't made a u-turn, with regards visiting rules for expectant parents during the COVID-19 pandemic.
It's after Naomi Long sent a letter to Robin Swann, urging current restrictions to be relaxed - so women didn't have to attend pre-natal appointments by themselves or give birth alone.
As it stands, birth partners can accompany pregnant women to scans and during active labour - however, this is at the discretion of the midwife.
Currently, visiting in antenatal and postnatal wards is allowed for up to one hour per week.
Mrs Long said she will continue to push for further changes to be made.
"There is no doubt we are in uncertain times and COVID-19 has changed the way we live beyond recognition," she said.
"I also appreciate the Minister is working hard to protect patients from contracting the virus, however, despite recognising in his reply this is not the experience he would have hoped for expectant mothers, little progress in terms of improving that experience has been made.
"The answer does not provide clarity for parents-to-be, instead indicating the situation could vary hospital to hospital and shift to shift, depending on the view of the midwife. It is a stressful enough time, without this added uncertainty.
"Suggesting partners can visit once a week seems at odds with the reality most people will only spend a few days in a maternity unit. However, those early hours and days are critical to the bonding process and are also a time when people may need extra support looking after their newborn. Often partners are able to help with washing, changing and caring for the baby while their partner recovers from labour, relieving pressure on the ward staff.
"Sadly, not all deliveries are straightforward and not all babies are born healthy. Where they remain in hospital for longer than a week, it is likely to be due to serious complications – a single visit per week seems excessively restrictive if your partner or newborn are seriously ill and is causing serious distress and anxiety.
"Whilst sympathetic to the challenges, I am disappointed with the response from the Minister and will pressing him to reconsider and take heed of the impact on both parents and newborns at such an important time in their lives."