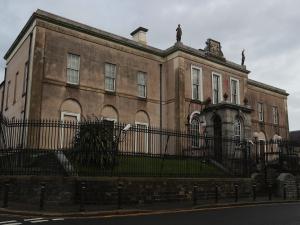 by Paul Higgins
A pensioner who tried to smother his dying father with a cushion because he wanted to end his suffering walked free from court today after the judge suspended his 18 month jail sentence for two years.
Downpatrick Crown Court Judge Geoffrey Miller QC told 67-year-old James Weir while there was "no doubt" his offence crossed the custody threshold, he was suspending the sentence.
"Having regard to the exceptional circumstances surrounding the case and bearing in mind that, regardless of your intention at the time, the actual degree of harm was slight and had no bearing on your father's death" He said.
The judge said while it was a "tragic case," Weir's actions in smothering his unconscious father with a cushion had been " deliberate and clearly carried out with the intention of killing his father, something he may well have achieved had the nurse not arrived in the room."
Weir, from Manor Street in Belfast, had pleaded guilty to the attempted murder of his father James Weir on 24 November 2018.
The court heard that Mr Weir snr, who was 90 at the time and was a resident at Blair House Care home in Ards, was approaching "the end of his life" when his son tried to kill him.
Prosecuting counsel Laura Ievers said the defendant, who along with his brother had drunk a litre of whiskey and ten Guinness overnight as they sat watching their father, had been momentarily alone in the room when a nurse came in and see him "holding a cushion over his father's face."
As the nurse took the cushion from him, "He said he was sorry she had to witness it but he thought it was the right thing to do for his father and that he could be see him suffer any longer," the lawyer told the court, describing how Weir jnr "visibly shaking and emotional" at the time.