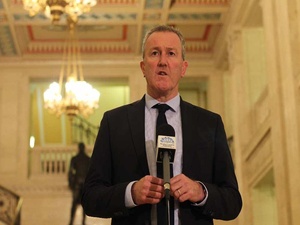 Conor Murphy
By Q Radio News and Michael McHugh, PA
Another £29 million of public money will spearhead a "cultural recovery" for the arts industry, Northern Ireland's Finance Minister has said.
Venues and workers have been devastated by the pandemic and the flagship Lyric Theatre is not expected to reopen until next year.
The Stormont Finance Minister has previously been accused of "sitting on" Covid relief funding as the sector is "crumbling".
On Thursday he said: "I am pleased to announce £29 million for cultural recovery.
Finance Minister @conormurphysf announces new funding:

Economy - £8.5M Assistance to Business, £8.4M Skills and Youth Training, £9.9M Tourism, £5.8M University Research & Development , £3.5M FE and HE PPE, £1.85M for air routes and £1.4M Energy. pic.twitter.com/D6Pby74J2G

— Q Radio News (@qnewsdesk) September 24, 2020
"This on top of the £4 million previously allocated means that a total of £33 million is going to this important sector."
Northern Ireland received the money in June as part of a UK Government package for theatres, arts and music venues and museums.
Co Antrim-born actor Liam Neeson had described the cash as a "lifeline" for theatres and venues in an appeal for the Executive to step in quickly.
The industry shut down in March when pandemic restrictions were introduced.
The funding is to support the arts, culture, heritage, languages and the wider creative industries.
DAERA - £11.4M Waste Management
DfC - £40M Locals councils & £29M Culture Recovery
DE - £8M Schools, £1M Non-Statutory Pre-School Settings, £0.2million Special Educational Needs
DfI - £5M Roads Winter Service, £14.8M A6 Flagship project and £15M NI Water
DoH - £1.6M for COVID app

— Q Radio News (@qnewsdesk) September 24, 2020
Over £29 million is also being provided for business interventions including support for the tourism industry and a Holiday at Home voucher scheme, as well as investment in skills and youth training and further business support.
Sinn Fein economy spokeswoman Caoimhe Archibald said the extra money was worth £10 million to tourist businesses hard-hit by travel restrictions and shutdowns.
She said: "This funding will provide a vital lifeline for the tourism and hospitality sectors and could prove crucial in protecting jobs and livelihoods."
She said the Holiday at Home vouchers will hopefully incentivise people to take staycations and support the local economy.
"The tourism and hospitality sectors have been among the hardest hit by the pandemic which is deeply unsettling for tourism and hospitality workers and their families, as well as the wider economy," she added.
A total of £40 million is being allocated to ensure local councils can continue to provide essential services and support those in need.
Recognising the importance of capital projects to stimulating economic recovery, £15 million is being allocated for the A6 road from Londonderry to Dungiven, with £15 million being provided to Northern Ireland Water to accelerate a number of projects.
Extra cash is being set aside for waste management, schools, higher and further education and the Covid tracing app.
Mr Murphy said: "The allocations made today will provide vital help to businesses as well as continuing to protect the vulnerable."