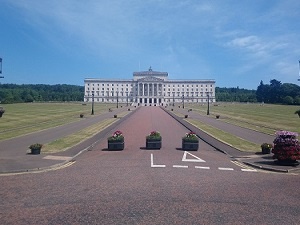 By Q Radio News and PA
UUP leader Robin Swann has said that new Stormont talks should not be window dressing but should be substantive for the people of Northern Ireland.
"What we need to actually get to this set of talks is to sort out a governance structure that doesn't give a veto to one party that can simply crash democracy in Northern Ireland because of their will," he said.
"I think today is a start of what we'll see for the rest of this talks process, if today is simply window dressing then we're wasting our time and insulting the people of Northern Ireland, if this is simply five parties sitting round a table again to re-establish red lines, we've let the people of Northern Ireland down, and if those parties who come in with red lines established are sticking by them, then they are letting the people of Northern Ireland down."
The @uuponline leader Robin Swann arrives for the all-party talks at Stormont #Belfast this afternoon. He says parties who are entering the talks with red lines intact are letting the people of NI down pic.twitter.com/s3SL6VC5kc
— Q Radio News (@qnewsdesk) May 7, 2019
Mr Swann continued that the population of Northern Ireland does not have unlimited patience with its public representatives.
"I think we have pushed the people of Northern Ireland to their limit with this place," he said.
"I think the weekend and the turnouts that we had for our local government elections actually shows that the people of Northern Ireland still believe in democracy, but they want to see democracy delivering for them and if they actually come to a stage that this place can't deliver for them anymore, then I think the people of Northern Ireland will give up on Stormont."
Page 3: 13:00
SDLP leader Colum Eastwood said today's talks are an opportunity to get things right in Northern Ireland.
"I think any of us who have been knocking doors over the last few weeks, and some of us have more doors to knock, will understand what the public are saying," he said.
"Yes, they have strong views on all the big issues, but they also want us to deal with the issues in the health service, the education system, Brexit, the economy, and they want us to do it in government.
"None of those things will be solved by standing outside and shouting at each other, so this is an opportunity for those of us in these talks to listen to what the public have told us, I think they want us to get back to work, to come back together, to remember the spirit of the Good Friday Agreement."
The @SDLPlive leader @columeastwood addresses the media outside Stormont House ahead of all party talks this afternoon pic.twitter.com/X4dLJo424x

— Q Radio News (@qnewsdesk) May 7, 2019
Page 4: 13:20
Sinn Fein leader Mary Lou McDonald said that her party were in Stormont to "do the business".
"The current stalemate is not acceptable and not sustainable, there are outstanding issues that need to be resolved, and we believe they can be resolved," she said.
"If everybody is prepared to show leadership, if everybody is prepared to respect the clear public desire for equality and people's rights to be recognised and delivered on, we can find our way back to powersharing.
"We look forward to discussions, we want to talk about delivering a rights-based society, and we want to talk about protecting public services from the ravages of Tory austerity.
"We want to talk about resourcing, building prosperity, building the economy, building opportunity for every citizen.
"The work at hand is clear, people know what the outstanding equality issues are and they need to be resolved and can be. I hope today will mark the first step in that journey of resolution."
The @sinnfeinireland party leader @MaryLouMcDonald says that her party are 'here to do the business' ahead of all party talks at Stormont House pic.twitter.com/aYD5na6wgD

— Q Radio News (@qnewsdesk) May 7, 2019
Page 5: 14:24
The UK and Irish governments have outlined details of the talks format for the coming weeks.
It will involve weekly meetings of the political leaders - more frequent meetings will be called if required - with the creation of five working groups to examine the key logjams.
The five parties in the talks will be asked to nominate three representatives to each working group, which will meet for the first time later this week.