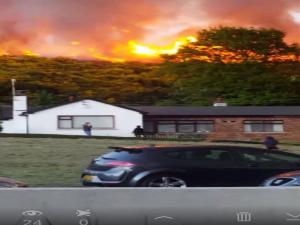 The gorse fire in Newry was close to St Marys school and a residential area. Photo: Aoife McCullough
Jemma Crew, Press Association
A gorse fire which forced families to evacuate their homes overnight was started deliberately, the fire service believes.
Some eight fire engines and 60 firefighters tackled the blaze in Newry, Co Down on Friday night, Northern Ireland Fire and Rescue Service said.
They were called to the fire nearby residential houses on Barley Lane and St Mary's high school at around 8.50pm.
Residents were temporarily evacuated from their homes as firefighters brought the fire under control, fully extinguishing it at around 2am on Saturday.
Fire service group commander Brian Stanfield said: "They had to work hard in difficult conditions to bring the fire under control and extinguish the flames.
"Members of the public left their houses during the incident."
Nobody was injured and no buildings were damaged, he added.
The fire service attended more than 160 incidents between 6pm and 11pm on Friday night, Mr Stanfield said.
He is urging the public to heed fire safety advice to protect themselves and the countryside, after a spate of fires sparked by the dry weather.