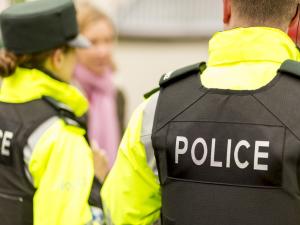 By David Hunter
An Assistant Chief Constable in the PSNI says a newspaper front page may cause unnecessary fear in the wake of the Manchester terror attack.
The Belfast Telegraph sent a reporter into key tourist sites holding a rug-sack to see if he would be searched.
The paper says the bag was similar to that used by Salman Abedi in Mondays bomb attack, which killed 22 people.
Up to 60 others were injured in the explosion at Manchester Arena, with around 20 left in a critical condition.
Following a meeting of the Government's 'COBRA' emergency team the UK's terror threat level has been raised to critical.
The Belfast Telegraph says a black backpack was carried on each occasion through the main entrances unchallenged, and then was left alone for around five minutes, although monitored from a distance.
The paper claims that on just one occasion, at Belfast City Hall, the bag was searched.
ACC Barbara Gray appealed for "Responsible behaviour" and insists all available resources are being committed to battling the terror threat.
In a statement she said "Actions such as this do nothing to help provide a feeling of safety for those living, working or visiting Belfast. It does not benefit anyone and indeed, may create an increased and unnecessary fear during an already difficult and unsettling period.
"I would ask for continued vigilance but want to emphasise that Belfast and Northern Ireland has just reported the lowest crime rates for many years."
The senior police chief also said the force was constantly battling against violence from dissident republicans opposed to the peace process.
She said all available resources within the PSNI were being deployed to help battle the terrorist threat.
ACC McCann went on to say: "My thoughts are very much with the families, friends and colleagues of those effected so deeply by the the terrorist attack in Manchester.
"I want to appeal for responsible behaviour at this time when we all have a collective responsibility to protect our communities. We all have a responsibility and I hope no one feels encouraged to repeat the actions we have been informed that reporters took."