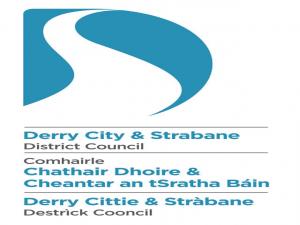 by Gráinne Connolly
Local businesses across the North West are being offered the opportunity to become part of a cross border trade delegation trip.
It's been organised by Derry City and Strabane District Council (DCSDC) and Donegal County Council, for the second year in a row.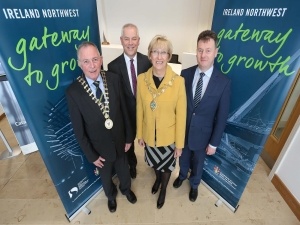 (Mayor of Derry City and Strabane District, Alderman Hilary McClintock, pictured with Cathaoirleach of Donegal County Council, Cllr Terence Slowey, and Chief Executives of both Councils John Kelpie, DCSDC, and Seamus Neely, DCC, launching the 2017 Trade and Investment Mission to Boston for any local companies with aspirations to break into the US market).
The trip is a major opportunity for businesses in the North West, who are interested in breaking into the US market.
Kevin O'Connor, the business manager for DCSDC said last year was extremely successful and beneficial to those who went to Boston:
A total of 12 companies will be chosen from both the DCSDC and Donegal County Council areas.
They'll be accompanied by the Mayors and Chief Executives of both councils and key partners.
Mr O'Connor said the trip can open doors for the local businesses, in terms of marketing, trading and setting up future trading opportunities:
May of Derry City and Strabane District, Alderman Hilary McClintock stated:
"I would really encourage any up and coming ventures, or existing companies with plans for expansion, to consider the benefits of establishing trade links with the US.
I travelled to Boston last year as part of a similar delegation and I was extremely impressed by the networking opportunities included in the intinerary. We received an extremely warm welcome during the visit and the participating delegates had the opportunity to establish meaningful and fruitful links with business counterparts in Boston."
Potential delegates will receive support throughout the trip and will have the chance to participate in a pre-mission assistance programme, as well as a post-trip follow up support.
They'll also receive a financial support package towards flights and hotel accomodation- 50% contribution towards flights and £100 per night, towards hotel accommodation.
All companies will benefit from extensive local media coverage to heighten their presence in the market.
Anyone interested in the 2017 Trade and Investment Mission to Boston can contact:
Rosalind Young/Adam Goodall at DCSDC - investment@derrystrabane.com or 02871 253253
Michael Tunney, Donegal Local Enterprise Office -michael.tunney@leo.donegalcoco.ie or 00353749160735