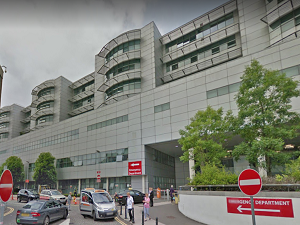 Q Radio news
Health officials are expecting to get test results back later on a patient being examined at a Belfast Hospital for the deadly Corona-virus.
The man reportedly entered the Royal Victoria Hospital yesterday after presenting symptoms of the illness.
It's understood the man may have recently returned to Northern Ireland from an area of China where the virus has been spreading.
Authorities have suspended planes and trains in and out of Wuhan.
Here's Former Stormont health minister Jim Wells:
The virus has spread to the US, South Korea, Japan, Saudi Arabia, Singapore, Vietnam, Thailand and Taiwan.
The Belfast Health Trust, which runs services in the city, was unable to make any comment.
The Public Health Agency (PHA) also declined to comment saying there are so far no confirmed cases in Northern Ireland.
There is no suggestion at this stage that the patient has coronavirus.
Sources indicate the tests and quarantine procedures are merely a precautionary measure until medical teams have definitive answers.
Meanwhile, the World Health Organisation (WHO) declared the outbreak an emergency but said it was "too early" to consider it a "public health emergency of international concern" given "its restrictive and binary nature".
Speaking at a press conference, WHO chief Dr Tedros Adhanom Ghebreyesus said: "Make no mistake, though, this is an emergency in China.
"But it has not yet become a global health emergency. It may yet become one."
An 80-year-old patient with coronavirus died in Hebei on Thursday - the first confirmed death outside Hubei province where the outbreak began.
He had shown symptoms of the virus upon his return from a two-month stay in Wuhan to see relatives.
Wuhan is the capital of Hubei and has been the epicentre of the outbreak of the coronavirus first detected last month. The virus has since spread to Chinese cities including Beijing and Shanghai, as well as the US, Thailand, South Korea and Japan.
Four cases have been found in Thailand, two in Hong Kong and the autonomous region of Macau, and one each in the US, Taiwan, South Korea, Japan and Singapore.
In the UK, 14 people have been tested for coronavirus with five confirmed negative and nine still waiting for results, Public Health England said.