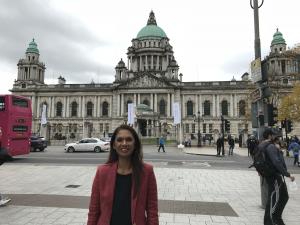 Q Radio News
Anti-Brexit campaigner Gina Miller's in Northern Ireland, speaking to people living and working on the border.
As part of her new campaign called "end the chaos," Miller has come here with the aim of shedding an important spotlight on the real-life impact it has had, and may yet have, in Northern Ireland and Ireland.
It comes ahead of a panel event at the Sean Hollywood Arts Centre in Newry on Friday, called Brexit and the Border.
She's been talking to Simon Hunter, about the future for people in NI after the departure from the EU, the absence of a Stormont executive & the DUP-Conservative confidence-and-supply deal.