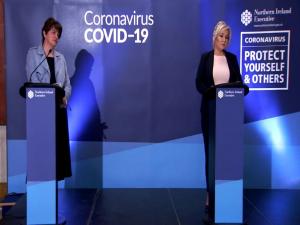 by Q Radio News and PA reporter
From next Monday, those who are shielding in Northern Ireland will be able to spend time outside with people from their own household.
They'll also be able to meet with one person from another household as long as they observe social distancing.
The news was announced by Stormont leaders during their daily executive press conference.
First Minister Arlene Foster warned covid-19 still posed a threat.
"I have seen over the weekend new evidence of complacency," she said.
"In the worst cases there has been flagrant disregard for public safety."
She said scenes like large gatherings at Ballyholme beach in Co Down over the weekend were not acceptable.
First Minister @DUPleader says scenes at Ballyholm beach on Friday night "are not acceptable".
"We have seen over the weekend new evidence of complacency and flagrant disregard for public safety."
Ms Foster warns we have not beaten coronavirus.

— Q Radio News (@qnewsdesk) June 1, 2020
Letters with updated guidance are to be issued to those shielding in the coming days.
Arlene Foster added, "We are trying to indicate to people that we are listening to their concerns.
"We hear that they want to have hope and want to know what is coming down the road.
"We can only do that in an indicative way."
The Northern Ireland First Minister added, "We are saying to them today, if everything goes according to plan... they will be able to meet with people outside."
The news comes as one more person has died in Northern Ireland linked to coronavirus.
It brings the death toll to 5 hundred and 24.
One more person with Coronavirus has died in the Republic of Ireland, bringing the number of lives lost there to 1,650.
Meanwhile, Deputy First Minister Michelle O'Neill said the safest place for those shielding was still at home.
"It is crucially important that you are very strict about maintaining social distancing," she said.
She added: "You have come this far so make sure you protect yourselves as best you can until we are out the other side of this."
Those shielding have been unable to leave home for 10 weeks.
The Stormont leaders also warned all measures still depend on the rate of the 'R' number or the reproductive rate of coronavirus.
The executive will meet on Thursday and review the number again.
On the matter of easing restrictions for those shielding, DFM @moneillsf says it is about "giving hope" and it is a "small baby step" towards that.
Ms O'Neill also says the NI executive is "not jumping ahead" of itself, they continue to be guided by science.

— Q Radio News (@qnewsdesk) June 1, 2020