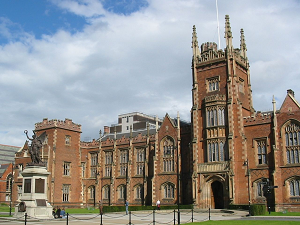 by Q Radio News
Queen's University in Belfast has suspended face-to-face lectures in response to the coronavirus, with all lecture material instead to be delivered remotely.
All field trips have also been scrapped, though laboratory sessions, tutorials and seminars will continue as normal, the university announced.
Queen's said a number of students had identified as having coronavirus-type symptoms over the weekend and are awaiting tests to confirm if they had the virus or not.
The university said it would continue to work on measures to facilitate staff remote working.
President and vice-chancellor Professor Ian Greer said: "As always, our first priority is to safeguard our students, staff and the general public."
He added: "This is a time for us to come together as a community and I would like to thank all colleagues and students for the calm, unity, care and resilience that you have shown as we work together as part of the wider public effort to minimise the impact of the virus."
From Wednesday 18 March, all lecture material will now be delivered remotely and all face-to-face lectures will cease. Click for more updates about this and:

• Assessments.
• Students travelling/returning home.
• Other teaching.
• Field trips.

Click👉🏽https://t.co/R6qfESuLv2 pic.twitter.com/Po4DA9NcwK

— Queen's University Belfast 🎓 (@QUBelfast) March 16, 2020
Meanwhile, a number of schools across Northern Ireland have decided to close in a bid to help contain the outbreak, even though that's not been advised by the Government.