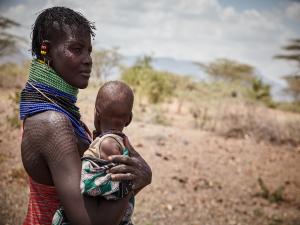 Q Radio's David Hunter on an overseas trip with Trócaire
By Q Radio news
Trocaire is is urging the puiblic not to return their lenten campaign boxes for the first time in 47 years.
The overseas development charity wants people to hold on to the money they've gathered until it's safe and possible to return them.
Trócaire cancelled all their face-to-face events and outreach work last month, and David O'Hare from the chairty says there's a real worry for the people they work with.
As with many charities at the moment, donations can still be made online or by phone.
Trócaire's Head of Region for Northern Ireland Siobhan Hanley said: "Families in the world's poorest countries need our support now more than ever. We are urging people to please keep hold of their Trócaire boxes and return them when it is safe and possible to do so.
"In the meantime, we are urgently trying to save lives during the Coronavirus outbreak. Supporters can continue to make donations online or over the phone to fund this work. We know not everyone is in a position to support this work right now, but – if you can – any donation you can give will help us to support the world's poorest communities through this terrible crisis."
Trócaire is using funds to provide hygiene kits, testing kits, information campaigns and other support to vulnerable communities affected by COVID-19.
The virus is now present in 18 countries where Trócaire provides support, including some – Somalia, Democratic Republic of Congo (DRC) – that are amongst the poorest places on Earth.
Siobhan Hanley explained: "Many communities where Trócaire works do not have the basic infrastructure to fight the virus. This means they lack access to clean water and social distancing is often not possible in overcrowded refugee camps and slums."