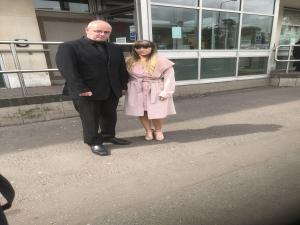 Katie Weir and family friend Davey Mahaffy outside Ards court after Charles MaCartney was jailed
By Paul Higgins
A woman who was orphaned by a self-proclaimed boy racer killer driver, speeding as fast as he could, wept in court today (thurs) as the man who killed her parents was jailed for 14 months.

Ordering 20-year-old Charles Hugh Macartney to spend a further 14 months under supervised licence, Newtownards Crown Court Judge Geoffrey Millar QC also banned him from driving for five years.

Jailing Macartney, from Manse Court in Newtownards, having heard how his Nissan Micra was going as fast as it could, Judge Millar told him that excess speed was "clearly the central feature" to the tragic accident which killed Dean and Sandra Weir on St. Patrick's Day 2017.

"It's a sad fact that day and daily, young men 17, 18, 19, 20, get behind the wheels of cars and believe that by virtue of their age and lack of life experience, they're invincible and believe that they can control their own destiny, can control the vehicles that they drive and that there are no consequences.

"The events of the morning of St. Patrick's Day 2017 tell a different and sad story," said the judge adding that the "harrowing" TV adverts from the DoE tell the message that "when you get behind the wheel of a car, you are driving a potential murder weapon, a killing machine."

Married couple Dean and Sandra Weir were on their way from their home in Portavogie to meet friends in Dublin when Macartney lost control of his Nissan Micra car and crashed into their Suzuki Alto.

Prosecuting counsel Laura Ievers outlined how a dash cam seized from Macartney's car showed he was driving at almost 90 mph when he lost control going around a bend on the Dunover Road, Ballywalter just before 9am.

She said it had been raining at the time, the road was wet and there was "standing water" on the road in the lead up to the point of impact.

Macartney lost control of the Micra as he negotiated a right hand bend, his car striking the kerb and grass verge, spinning twice before it impacted into the Weirs' car which was travelling in the opposite direction.

Tragically, Mr Weir (52) died at the scene as a result of the injuries he sustained, only to be followed by the passing of his wife Sandra, also 52, a month later as a result of a pulmonary embolism, or deep vein thrombosis, caused by the leg and rib fractures she sustained in the crash.

Heartbreakingly, she died in the arms of the couples' daughter Katie, their only child.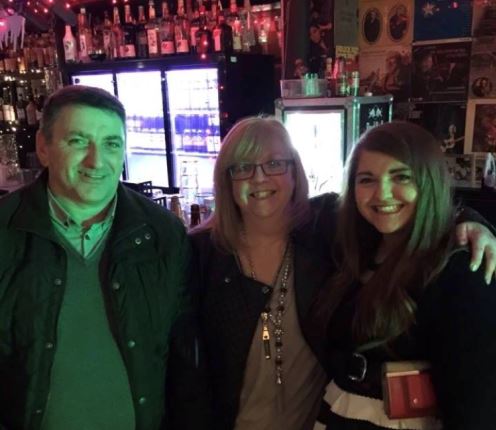 (Katie with her mum and dad, Dean and Sandra Weir)

Ms Ievers described how the downloaded footage from the dash-cam was examined by a forensic expert who reported the Micra was travelling at 89 mph as it approached the bend and around 79 when Macartney lost control.

A speed of 89 mph, said the lawyer, "was about the maximum speed such a car could achieve."

The expert opined that at the point of impact, Macartney was travelling at 68 mph, still above the 60 limit for the road

She added there was no evidence of drink or drugs involved, both cars had been "well maintained" and there were warning signs illustrating to drivers they were approaching a bend with a "slow" marking in the road.

"There were no witnesses to the collision but the defendant did make a significant statement to a police officer that he had been driving quite fast causing the car to spin," said Ms Ievers.

Macartney also told that officer the "back end snapped" so he had tried to correct it "but that made it worse."

Interviewed a few weeks after the incident having suffered a spinal fracture himself, Macartney initially gave a "no comment interview on legal advice" but during later questioning, he "made full admissions to causing the collision and that the driving was dangerous."

"The defendant was asked about stickers on the car and comments on Facebook about being a boy racer but he said it was intended as a joke because the car he was driving was considered to be a granny shopping car," she told the court.

Macartney claimed he didn't appreciate the "potential consequences" but did tell officers he was "truly sorry for the deceaseds' family."

At arraignment Macartney pleaded guilty to the lesser offence of causing death by careless driving and it was only in the lead up to his impending trial the charges were put to him again and he confessed to killing the couple by dangerous driving.

Defence counsel Stephen Toal began his plea in mitigation by stating straight away that he was "offering our sincerest condolences to the family of Mr and Mrs Weir, in particular Katie.....we are acutely aware of the pain she's suffering."

Outlining that nothing in his plea was intended to "detract from the loss" of her parents, Mr Toal submitted that Macartney will carry his guilt "for the rest of his life and will always deeply regret the loss of life to the Weir family."

Quoting Macartney from one of the reports, the lawyer told the court he "would give anything to go back to that point and slow down and change the outcome."

As regards his character, Mr Toal said Macartney had a completely clear record, there were no issues with alcohol or drugs and there were references that he had"helped others throughout his young life."

In his sentencing remarks, Judge Millar said he had received and read the victim impact statement from Katie and while he described it as "poignant and heartbreaking," he added he would not open its details in such a public forum.

"It is eloquent, heartfelt, poignant, sobering and speaks powerfully if the sheer loss and destruction caused by an act of thoughtlessness and misplaced confidence on the defendant's part," revealed the judge.

He added there were similarities between Macartney and Katie, both of similar age, their parents also of similar age but that she had to endure the death of her father and then her mother "who died in her own arms."

He continued: "The loss she has suffered doesn't diminish with the passage of time but rather each life event, whether it be graduation, first job, marriage, children of her own, must all be seen against a backdrop of the vacuum left by the absence of her parents."

The judge told Macartney nothing he could do or say "can turn the clock back and restore that couple to life, no matter how much to may wish that could be the case."

He said while the fact Macartney was speeding on a similar road the previous day was an aggravating factor, "showing that you were prepared to travel along country roads, often in poor conditions, at speeds in excess of 80 mph," there were numerous points in mitigation including his youth, clear record, guilty plea and genuine remorse.

The judge told Macartney however "it's clear that your interest in racing and cars has continued" and that his "self-penned description of boy racer raises the spectre of a possible risk of harm" in potential further offences.

Jailing Macartney, Judge Millar said a custodial sentence "is both appropriate and necessary...to act as a deterrent" to everyone who drives.

Speaking outside the court following the sentencing, Katie lambasted the sentence as a "kick in the teeth."

"I just don't think it reflects the fact that he caused the death of two people and certainly doesn't deter other drivers from driving at excessive speed," said a weeping Katie, commenting that she wishes she had died in the crash too.

"I think I would rather have been in that car - it would just be easier if mum was alive and I was dead because it's so hard."

The university graduate called for legislation to be changed to allow judges to impose life sentences on killer drivers as guidelines and maximum sentences in NI are inadequate.

Highlighting that according to her research a life sentence is available to judges in the rest of the UK, Katie questions "do our lives matter less?"

"I think I would have taken life at the end of the day because he had taken two lives from myself and took the rest of their lives from them.

"I think he should've at least received ten years."
Meanwhile following the sentencing, Constable Dinning from PSNI's Collision Investigation Unit said, "Our thoughts at this extremely sad time are very much with Katie; Dean and Sandra's only child and the wider family circle.
"The incredibly sad reality is this loss of life and the catastrophic impact this collision has had on Katie could have been avoided.
"Katie has been cruelly deprived of the chance to share her future with two of the most important people in her life.
"She will never be able to lift the phone 'to chat' with her parents, or share the many momentous milestones ahead of her. This has all been taken from her."
"Despite targeted road safety operations and using every opportunity to publicise the road safety message, all too often police and our emergency service colleagues continue to respond to and investigate fatal road traffic collisions.
"Everyone shares the responsibility for road safety. Our message is straightforward.
"All road users need to slow down; be aware of and pay attention to their surroundings. Otherwise, the results can be simply catastrophic.
"I would also like to take the opportunity to pay tribute to the emergency services and all those who attended and assisted in the immediate aftermath of this collision.
"I would also like to acknowledge the efforts of all my police and civilian colleagues and the support we have had, in particular from Katie, and also from the wider family of Dean and Sandra Weir and wider public during this investigation."