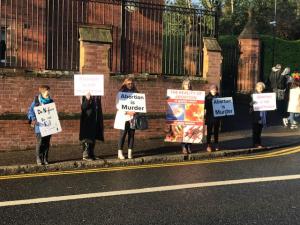 Anti-abortion protestors on the Stranmillis road in Belfast
By Q Radio News
Anti abortion campaigners are protesting outside a conference in Belfast where delegates are discussing Northern Ireland's new termination laws.
Last October abortion was decriminalised allowing terminations of up to 28 weeks in cases of fatal or serious foetal abnormality.
Today pro - life supporters gathered at Riddel Hall where clinicians and policy makers are discussing how to put the new law into practice.
Northern Ireland could become the abortion capital of Europe because of a new more liberal law according to Precious Life campaigner Bernie Smyth. Today pro - life supporters are protesting outside Riddel Hall, Belfast where clinicians and policy makers are discussing the new law pic.twitter.com/vFxVvbDlZN

— Q Radio News (@qnewsdesk) January 17, 2020
The government has to put legislation in place by 31 March 2020 regarding the provision of abortion services and a public consultation closed last month.
During the consultation it sought views on whether a new power may be requiredt o ensure the new services can be provided and accessed in a way that protects women from harassment by anti-abortion protesters.
Precious Life believes the new law will turn Northern Ireland into the abortion capital of the world.
Anti abortion protestors picket a health conference in Belfast over new laws which they say will make Northern Ireland the "abortion capital" of Europe. pic.twitter.com/O4E4B9rHEJ

— Q Radio News (@qnewsdesk) January 17, 2020