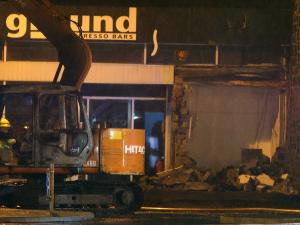 Q Radio news
An ATM machine has been ripped from the wall of a building in the town centre of Bushmills, Co.Antrim.
Firefighters were called to the scene in the Market Square / Diamon area at around 03.30am on Tuesday.
A Digger and a tractor - trailer were well alight when fire crews from Portrush arrived at the scene.
The PSNI has closed the town centre to traffic and pedestrians to accommodate the fire and an investigation.
A short time later another vehicle was burned out at the Craigboney Road, near Bushmills. It is believed that both incidents are linked.
It's the latest in a string of ATM thefts using a similar tactic in Northern Ireland in recent months.
The PSNI has established a specialist unit to investigate the crimes, but so far there have been no criminal charges.
McAuley Multimedia staff were at the scene very quickly spoke to one eye witness who wished to remain anonymous.
" At about twenty past three, I heard a massive crash followed by another crash, I though it was thunder" they said.
"It's unreal that this has happened in our village. It now means that people will not be able to get cash especially coming up to the Easter holidays.
"The village will be very busy with tourists given its location in proximity to Bushmills Distillery and the Giants Causeway."
The ATM stolen from the village of Bushmills during the early hours of this morning has been recovered from a country road near Dunluce Castle. It is believed the criminals lost it from their getaway vehicle. Picture by @McAuleySteven of McAuley Multimedia. pic.twitter.com/9VgfMK2mRO

— Hannah Spratt (@Radio_Han) April 16, 2019
PICTURES: STEVEN MCAULEY/MCAULEY MULTIMEDIA