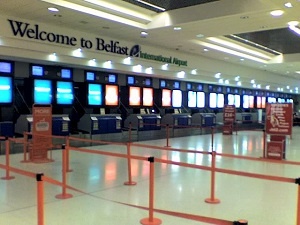 Q Radio News/PA
Travellers arriving in Northern Ireland from several popular holiday destinations, including the Balearic Islands, will no longer need to self-isolate, the Executive has announced.
The popular Spanish islands include Ibiza, Menorca and Mallorca.
A number of other hotspots added have been added to Northern Ireland's green list – such as Barbados, Bermuda, Grenada, Madeira and Malta.
Those destinations were all previously on Northern Ireland's amber list, which involves returning travellers having to quarantine at home for 10 days.
The change in status comes into effect at 4am on June 30.
Meanwhile,
Flights between Belfast International Airport and all three of the Spanish Balearic Islands will resume on 1st July following on from the announcement of the Green list by the Northern Ireland Executive.
Flights to Majorca, Menorca and Ibiza will operate up to 14 times a week with Jet2.com, easyJet and TUI operating direct flights to these popular destinations.
Graham Keddie, Managing Director, Belfast International Airport:
"We are delighted that the Balearic Islands have been included on the NI Executive's green travel list for international travel. It is great to know that local holidaymakers can now head off for a well-earned summer break safe in the knowledge that they won't have to quarantine on their return.
"We look forward to welcoming back more passengers safely and can reassure them that we and our airlines are well prepared with a range of social distancing, hygiene and testing provisions in place throughout the airport.
"As we move towards full reopening, we would ask that passengers familiarise themselves with all the rules around air travel. We need to maintain social distancing and we would ask that passengers arrive two hours prior to departure. Anyone with Covid-19 symptoms must stay away from the airport and passengers must adhere to all the public health guidelines as we start to increase our flights and passenger flow".
Here's Graham Keddie of Belfast International Airport:
A number of changes have been agreed to Northern Ireland's international travel lists...

Dept. of Health: pic.twitter.com/Y2N6mcr6HC

— Q Radio News (@qnewsdesk) June 24, 2021
Travel industry workers and leaders held demonstrations across the UK on Wednesday, calling for restrictions to be eased.
The Westminster Government is also expected to update England's travel lists on Thursday. The UK nations' lists are closely linked.
Northern Ireland also made additions to its red list, which involves returning travellers having to stay at a quarantine hotel.
The affected countries are the Dominican Republic, Eritrea, Haiti, Kuwait, Mongolia, Tunisia and Uganda.
Here is a full list of locations moved to the green list by Northern Ireland:
Anguilla
Antigua and Barbuda
Balearic islands
Barbados
British Antarctic Territory
British Indian Ocean Territory
British Virgin Islands
Cayman Islands
Dominica
Grenada
Madeira
Malta
Montserrat
Pitcairn Islands
Turks and Caicos Islands