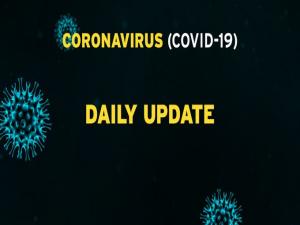 By Q Radio News
5 new COVID-19 linked deaths have been reported here in the past 24 hours.
1,072 new cases have also been detected according to the Department of Health.
The new figures mean 13 deaths linked to Covid-19 have occured in Northern Ireland in the past 48 hours.
8 fatalities were recorded yesterday.
NI #COVID19 data has been updated:

1,072 positive cases and sadly, five deaths have been reported in the past 24 hours.

2,262,641 vaccines administered in total.

Vaccines ➡️https://t.co/Yfa0hHVmRL

The dashboard will be updated again on Monday 2 August. pic.twitter.com/d5wrvsuajm

— Department of Health (@healthdpt) August 1, 2021
Operations at the mass vaccine centres are being phased out in the coming weeks as the programme adjusts how the majority of jabs are delivered.
First doses were available to adults for the last time on Saturday with second doses continuing to be administered in the centres in the coming weeks.
A number of first doses will still be given at the centres to specific groups of eligible under-18s.
The mass vaccination centres, which have done much of the heavy lifting during the rollout, are being gradually stood down to enable redeployed staff to return to other health service roles.
This will mean the SSE Arena in Belfast and the leisure centres that have facilitated the vaccination programme will be able to resume their normal functions.
Vaccines will continue to be available through pharmacies and mobile clinics.
Community pharmacies will expand their vaccination programmes with the addition of the Moderna vaccine.
The new service will initially see 16 pharmacies offer Moderna, with more pharmacies being added to the service on a rolling basis over the coming weeks.
Mobile vaccination teams will also continue to visit towns and venues across Northern Ireland.
Queues formed outside the SSE Arena on Saturday afternoon as people arrived to get jabbed before the deadline.
Dawn McKee, the lead nurse at the SSE arena, welcomed the scenes. "We're very encouraged by the results today," she told the BBC.
"People have appeared from nowhere, lots of younger people coming in now. I think they've decided that it's time to get vaccinated." Health officials have been concerned at the relatively low uptake rates among the under 30s. While more than 83% of the adult population have received first doses of a Covid-19 vaccine, the rate is only around 60% for the 18 to 29-year-old cohort."