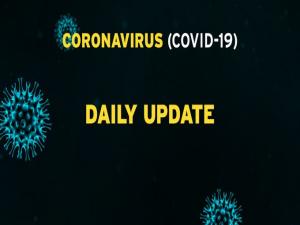 By Q Radio News
Eight new Covid-19 linked deaths have occurred in Northern Ireland in the past 24 hours.
1,177 new cases of the virus have also been reported,according to The Department of Health
NI #COVID19 data has been updated:

1,177 positive cases and sadly, eight deaths have been reported in the past 24 hours.

2,255,519 vaccines administered in total.

Vaccines ➡️https://t.co/Yfa0hHVmRL

The dashboard will be updated again on Monday 2 August. pic.twitter.com/5WdoA7DbaQ

— Department of Health (@healthdpt) July 31, 2021
The figures come as the HSE has urged the public to be vigilant following reports of a text scam from criminals claiming to be offering a Covid-19 vaccination appointment in the Republic.
Recipients are asked to follow a link to pre-book a vaccination appointment and then enter credit or debit card details in a payment section.
The HSE said it does not charge the public for Covid-19 services, including vaccinations.
Anyone who receives a similar text is asked to contact gardai.
Meanwhile, 40,000 GAA fans will be allowed to attend the All-Ireland finals, it has been confirmed. Minister of State for Sport Jack Chambers said that 24,000 fans will be able to attend the All-Ireland semi finals next week and 25,000 spectators can attend two World Cup qualifier games.
"We will continue to build on the progress to date to get as many fans safely back to our stadia," Mr Chambers said.
On Friday, health officials warned the Irish Government of the need to plan now for winter. Chief medical officer Dr Tony Holohan gave a presentation to politicians at a meeting of the North South Ministerial Council (NSMC) on Friday.
Speaking after the NSMC, Taoiseach Micheal Martin said the advice was to start planning now for the winter. Mr Martin said Dr Holohan stressed "the need to start planning for the winter period in terms of the protections we can put in place".
He said the winter could bring fresh challenges as the country deals with the normal flu season, alongside the Covid pandemic and the Delta variant of the virus. "We have to be cautious.
We have to be careful. We have reopened society very significantly.
We've got to protect that. We will keep a watching brief on this over August," Mr Martin said.
Mr Martin also appealed to people to be patient as the vaccine programme continues.