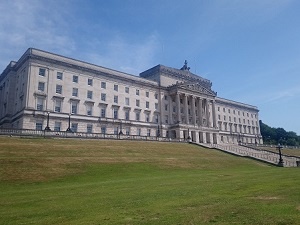 By Q Radio News
Young people in Northern Ireland will soon have a voice in Stormont after plans to set up a Youth Assembly were given the go-ahead.
First they'll be involved in the shaping how it will work and agreeing on its key priorities.
NI Assembly Speaker Alex Maskey hopes the platform will ensure the needs of the next generation are valued.
He says it's only fair that their concerns are taken into account by MLAs.
The Assembly Commission has some exciting news! Are you:
- 13-17 years old or know someone who is? ☑️
- Supportive of young people's rights? ☑️
- Interested in #democracy? ☑️

Then WATCH THIS 😃 📺 ⬇️ @NIYouthAssembly coming soon!#NIYouthAssembly2020 #ShapeYourFuture pic.twitter.com/Qz6za7GZWg

— Northern Ireland Assembly (@niassembly) July 22, 2020
"I am delighted to announce today the Assembly Commission's plans to establish a Youth Assembly," Mr Maskey added.
"It will give young people a voice and an opportunity to have their say on the issues that matter to them.
"We must do more to encourage the next generation to get involved in politics and democracy here. The YouthAssembly will allow us to do that.
"The functions of the Youth Assembly are at an early stage, but deliberately so.
"We want to get young people involved as early as possible to help shape how it will work, what its priorities will be and what it will focus on.
"Young people's involvement will be key to establishing a platform that meets the needs of the next generation, ensuring their voices are heard, their ideas considered and their visions valued."
The NI Commissioner for Children and Young People, Koulla Yiasouma, also welcomed the move.
"The voice and experiences of children and young people are essential for good decision making for any legislative body.
"Young People under the age of 18 do not have the vote and therefore it is important their Assembly finds alternative ways to hear their views on the issues that are important to them.
"The outline that the Speaker presented today demonstrates the format of Youth Assembly will be a partnership between MLAs and Young People and my Office looks forward to supporting them to design the best model for Northern Ireland."
She encouraged young people to take participate.
"Today presents a step forward for the rights of children and young people in Northern Ireland.
"We were the only jurisdiction on these islands without such a body and whilst there have been previous attempts to establish a NI Youth Assembly the preparatory work that the Assembly Commission has undertaken leading up to today's announcement gives me confidence this time will be successful.
"I encourage young people from across Northern Ireland, aged 13-17 years old, youth groups, schools and others to get involved. Your Assembly Needs You!".
Sinn Féin MLA Catherine Kelly, who is the party's spokesperson on Children and Young People, said it is only right that those who have to live out 'the aftermath of COVID-19 pandemic' and the 'disastrous consequences of Brexit" play a role in the political process.
"I welcome the news that an agreement on the framework to establish the Youth Assembly and the next steps is to put it in place for an initial two-year development stage," she added.
"Involving young people in politics and creating ways in which they can have representation and a real input into services and policies affecting them will ensure they play an active role creating positive change in the society they live in.
"Another keyway to empower young people to help them shape a more positive future is to lower the voting age to 16."