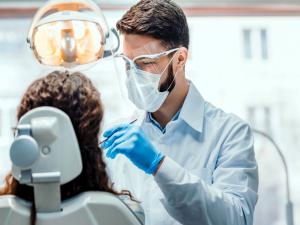 GETTY IMAGE
by Q Radio News
Routine dental care can resume in Northern Ireland from today, however, restrictions will be in place.
The service was among those halted at the start of the covid-19 pandemic in March, with non-urgent care given the go ahead to return at the end of last month.
The latest measures mean dentists are permitted to carry out aerosol-generating procedures (AGPs), which involves using the likes of drills and represents the majority of treatments.
AGPs, involving the use of high-speed instruments, represent the majority of dental treatments.
The Chair of the British Dental Association's NI Dental Practice Committee Richard Graham said practices need more support from the Executive in order to keep the sector open.
He said: "We need help with the level two PPE. We have never needed level two PPE before.
"This is an extra costs which we've never had to bare and it is such a high cost that it is making dentistry unsustainable.
"The number of patients we are seeing are down to a fifth to the level it was pre-covid."
Dentists performing these procedures are expected to use full PPE, similar to those used in hospital ICUs.
However, to ensure both staff and patients are protected, dentists may have to take an hour in between some patients being seen so surgeries can be given a deep clean.
It means practices aren't able to see as many patients in a day as they normally would.
Meanwhile, one of the main outstanding issues for dentists remains PPE.
The British Dental Association in Northern Ireland recently revealed not all practices can reopen due to shortages of protective gear.
Last month, the association also estimated the cost of PPE alone, ignoring other treatment costs, for treating a single patient has increased by up to 6000%.
Costs for kit were around 35-45 pence pre-pandemic but could now stand at £20-30 depending on exact PPE requirements and usage.
Dentists have appealed to the Department of Health to cover the cost of purchasing a higher level of Personal Protective Equipment.
One professional body had warned that as many as 90% of NI dental practices may not be able to provide AGPs until at least level two PPE has been secured.
Northern Ireland's has five urgent dental cares centres, located across each of the five health trust areas. They have provided most emergency care for dental patients throughout the pandemic.