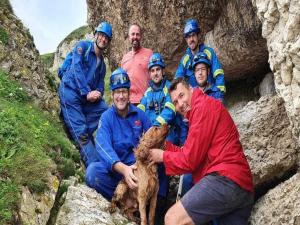 Picture of HM Coastguard teams rescuing dog following Co Antrim cliff fall, by McAuley Multimedia  
By Q Radio News
A dog has been rescued after falling off a cliff in Co Antrim.
Coastguard teams from Coleraine and Ballycastle were called to the scene near Whitepark Bay at around 11am this morning.
A little "excavation" work required to free the canine after it became trapped in a fissure between the rocks.
The animal was then reunited with its owner prompting a warning from HM Coastguard to keep pets on a lead near cliffs.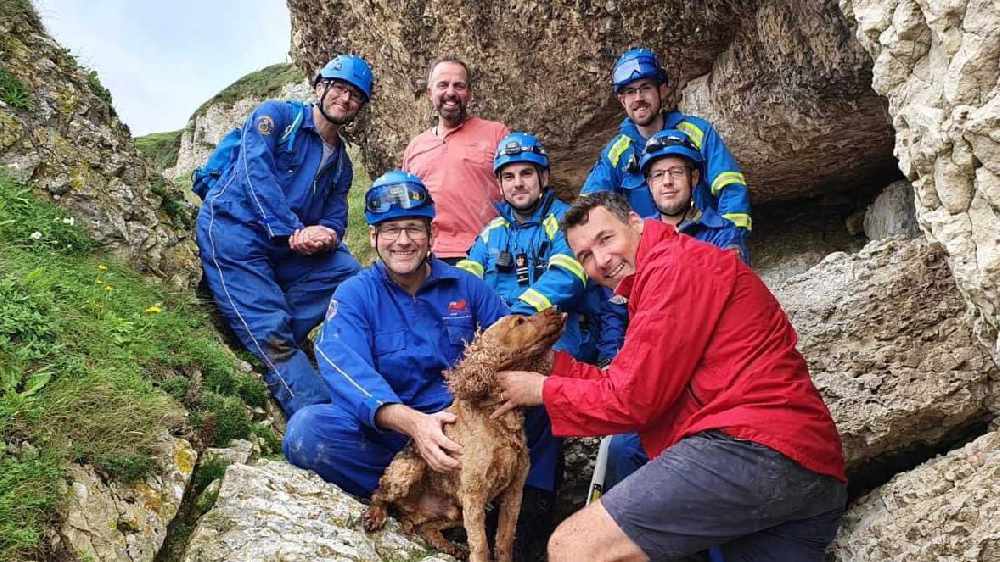 A spokesperson for Coleraine Coastguard said: "At 11:00 this morning, Coleraine and Ballycastle Coastguard Rescue Teams were tasked a dog fallen down a cliff close to Whitepark Bay in Co Antrim.
"The dog had fallen and become trapped in a fissure in the cliff.
"The teams were able to safely access the dog's location and, after a little excavation, the unfortunate animal was freed unharmed and reunited with its owner.
"HM Coastguard are responsible for rope rescue along the entire UK coastline.
"The teams will rescue domestic animals who have fallen to prevent their owners getting into difficulty trying to self-rescue their pets.
"We urge all dog owners to keep their pets on a lead while walking near cliffs. If your pet gets into difficulty, do not attempt a rescue yourself. Call 999 and ask for Coastguard."