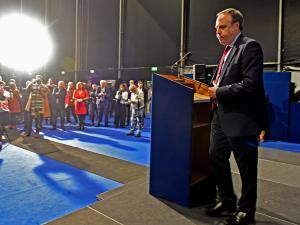 The DUP's Nigel Dodds who lost his seat in north Belfast
By Q Radio News
The Democratic Unionist Party has suffered two big losses in the Westminster General Election.
Nigel Dodds lost his North Belfast seat to Sinn Féin's John Finucane while Emma Little-Pengelly was defeated by Claire Hanna of the SDLP in South Belfast.
Her party leader Colum Eastwood won Foyle with a huge majority, while Alliance took North Down.
The staunchly pro-Remain Alliance Party has taken Northern Ireland's first Westminster seat in a major upset for the DUP.
Stephen Farry cruised to victory by around 3,000 votes in the affluent Belfast commuter constituency of North Down.
He hailed a resounding vote against Brexit and pledged to work in Westminster to frustrate the EU exit.
Mr Farry said: "This is a victory for the values that this constituency has been known for for many years, those of moderation, rationalism and inclusion."
He added: "They have come together behind a single cause, of sending out a very powerful message that the North Down area wants to Remain.
"We believe that there is no such thing as a good or sensible Brexit.
"Indeed, all forms of Brexit are damaging to the UK and to us in Northern Ireland and in particular the Boris Johnson deal."
Alliance leader Naomi Long celebrated with her victorious candidate with a hug and a wave for the cameras.
The last MP for North Down, independent unionist Lady Sylvia Hermon, was the sole Northern Ireland Remain voice in the previous Parliament.
Mr Farry's defeated opponent, Alex Easton of the DUP, said his vote had gone up on previous showings and added he would be back.
Northern Ireland has been without a devolved government for almost three years after a fall out between the DUP and Sinn Fein.
In Fermanagh and South Tyrone, Michelle Gildernew of Sinn Féin and Tom Elliott of the Ulster Unionist Party are neck-and-neck, with a recount now taking place.