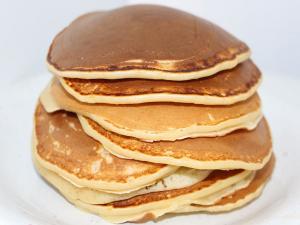 by Gráinne Connolly and PA reporter
Hundreds of bakery workers have gone on strike at the gates of one of Northern Ireland's largest bakeries in a dispute over pay, intended to disrupt Pancake Tuesday.
It comes after talks between Allied Bakeries and the trade union Unite, broke down on Friday.
The action marks the first time bakers have walked out in decades, in a row over a 3% pay claim.
The company, which is based at Orby Link off the Castlereagh Road, is best known in Northern Ireland for producing brands like Kingsmill, Sunblest, Burgen and other baked goods.
The multinational company owns a series of brands, including clothes retailer Primark, and posted profits of around £1.4 billion last year.
Workers have been out on the picket line since 6am this morning. It's been organised to coincide with the ramp-up production of pancakes at the site in the fortnight before Pancake Tuesday, with this week supposed to be one of the busiest of the year.
@pb4p @sp_ni Great to have Gerry Carroll and Matt Collins from PBP and Patrick Mjlhollan join us in the picket line at @Allied_Bakeries Orby link, #UpTheWorkers pic.twitter.com/4Nv5IMBKL8

— Seán at Unite the Union (@at_sean) February 16, 2020
A Kingsmill lorry stopped at the gates where dozens of workers carrying red Unite the Union flags demonstrated in the morning chill.
Local police mediated.
Robert Patton Unite shop steward @Allied_Bakeries speaks from the picket line and calls on local politicians to clearly back the workers in this pay dispute @GRobinsonDUP @naomi_long @RobinNewton4MLA @Chris_Lyttle @Joanne_Bunting @AndyAllen88 pic.twitter.com/Lzx2iBGl62

— Unite the Union NI (@UniteunionNI) February 16, 2020
Nelson Law Unite shop steward @Allied_Bakeries speaks from a cold picket line on the workers' fight for #FairPay pic.twitter.com/th4i0gXxN9

— Unite the Union NI (@UniteunionNI) February 16, 2020
Sean McKeever, Regional Officer for Unite, blasted as 'pathetic' - the offer made by Allied Bakeries' negotiators after direct pay talks broke down this week.
"Unite made ourselves available to Allied Bakeries and sought to engage positively in last ditch pay talks called at the request of management.
"Unfortunately the company did not appear to be serious when it came to addressing their workers' low pay and offered a pathetic, below-inflation offer which the shop stewards rejected as unacceptable.
"The meeting was a very short one.
"The other major competitor in the bread making sector in Northern Ireland, Hovis recently made their workforce a much improved pay offer which has been accepted. There's no reason Allied Bakeries can't deliver a similar uplift to their workers."
Meanwhile, Susan Fitzgerald from the union was speaking to Q Radio ahead of the strike.
She said Allied Bakeries "does not have a problem with money" but are deciding not to give workers a 3% pay increase.
Ms Fitzgerald claims the company paid out £4.5 million in bonuses alone last year to directors.
Susan Fitzgerald continued: "There will be no Pancake Tuesday celebrated in Northern Ireland and we hope to affect it elsewhere as well.
"During this picket we will be sending people to stand outside supermarkets leafleting, saying that other working people, in solidarity with Allied Bakery workers, should boycott Sunblest, Kingsmill and the other products that come out of here.
"That includes a favourite unfortunately, pancakes, which are going to be in demand next week."
This is the key week of production ahead of Pancake Tuesday.
"We intend to disrupt that as much as we possibly can because we have no option.
"When working people are forced to go to this length for a fair pay increase, when this company pay out millions in bonuses to directors, we feel we are (getting) the support of ordinary people right across Northern Ireland and further afield."
Ms Fitzgerald said Allied Bakeries was offering a 2.5% pay increase, which she added was significantly less than the Hovis bakery, which has a plant a short distance away in Belfast.
@1977susan Unite Regional Coordinating Officer calls on public to get behind the striking @Allied_Bakeries workers from the picket line on Castlereagh Road. pic.twitter.com/rVmaOMq91M

— Unite the Union NI (@UniteunionNI) February 16, 2020
Meanwhile, Allied Bakeries has issued the following statement:
"We are proud of our reputation as a long-term and responsible local employer and deeply disappointed that union officials have rejected our latest pay offer in favour of industrial action.
"All employees involved are paid at rates above that recommended by the Living Wage Foundation and benefit from company subsidised pensions, free life insurance cover as well as a range of other benefits.
"We have increased our rates of pay every year for the past ten years and will do so again this year.
"In the meantime, contingency plans are in place and we do not expect supply of our core Sunblest, Kingsmill and own-label pancakes to be significantly impacted as we engage with our employees to resolve this dispute.