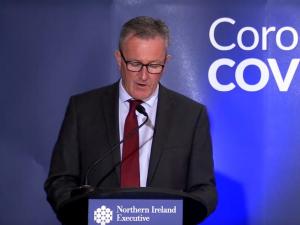 By Peter Moor
The majority of an additional £600m allocated to Stormont will go to the Department of Health, the Finance Minister has said.
The funding is part of a wider package announced by the UK Treasury last night.
The money is also being set aside to deal with any possible second wave of COVID-19, as well as cash for PPE supplies.
Conor Murphy told Q Radio about how the Executive here plans to use the money:
🎥 Finance Minister @conormurphysf has said the majority of the additional £600 million allocated to Stormont will go to the Department of Health.

It will be used to prepare for any second wave of COVID-19, along with any additional costs for PPE. pic.twitter.com/FuYdox5VAg

— Q Radio News (@qnewsdesk) July 24, 2020
Last night, Finance Minister Conor Murphy welcomed the additional funding for the Executive and the guarantee that the Executive will receive a minimum of £2.2 billion for its COVID-19 response.
Commenting Minister Murphy said: "I welcome this additional funding and the clarity provided on the Executive's budget for its Covid response.
"The Executive faces significant financial pressures to be met from this funding including the costs of preparing for a second wave of the virus, and helping businesses to survive and rebuild.
"This funding will help the Executive to maintain public services, support economic recovery, and protect the vulnerable."