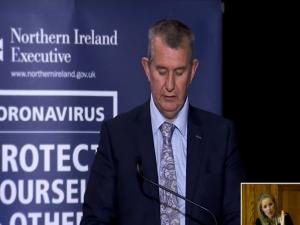 By Q Radio News
Rural Affairs Minster Edwin Poots MLA has launched a £1.7 million stimulus fund to help rural and micro businesses expand, innovate and sustain rural communities.
The Minister has called for applications to the £1million Rural Micro Business Growth Pilot Scheme and the £700,000 Rural Business Development Grant Scheme, during a tour of Hamilton Erskine Ltd in Ballygowan, manufacturers of specialist Tecdur electrically switched privacy glass, where he met with the Directors.
Following his visit, Minister Poots said: "Covid-19 has hit Northern Ireland's business community hard, and micro and small business owners, particularly in our rural areas, have been impacted by a downturn in trade. My meeting with Hamilton Erskine today has highlighted the impact of Covid has had, but also shown how a funding investment under the current EU LEADER Programme, will help their business to innovate.
🎥 Rural Affairs Minister @edwinpootsmla is launching a £1.7million stimulus fund to help rural and micro businesses expand, innovate and sustain rural communities.

I spoke to him earlier at a factory in Ballygowan. pic.twitter.com/UwzlIBgEZ8

— Peter Moor (@pfmoor) July 30, 2020
"The NI Executive has put its focus towards recovery and part of that is to help rural businesses have confidence to invest and expand, and to stimulate economic growth and development. The £1.7million stimulus fund I have launched today, aims to do just that. I encourage those eligible to apply for this funding."
Speaking about the Rural Micro Business Growth Scheme, the Minister said: "This scheme will provide an opportunity for rural micro businesses, new and existing, to apply for a grant of between £5,000 and £40,000 to invest in innovation and new technologies which will improve efficiency and productivity, create growth in the rural economy and make a positive climate related contribution."
Regarding the Rural Business Development Grant Scheme, the Minister added: "We've targeted this scheme at micro businesses and will provide capital grant assistance of up to £5,000 for the purchase of equipment/machinery for new business practices or scheduled growth plans and will also support building adaptations internal and external to facilitate new ways of working."