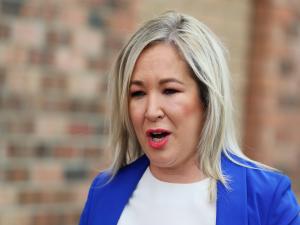 Michelle O'Neill.
Q Radio News/PA
Deputy First Minister Michelle O'Neill has said she would have "real concerns" over any proposal for vaccine certificates to be required for entry to indoor hospitality or entertainment venues in Northern Ireland.
Ms O'Neill also ruled out any plans to link a proposed high street voucher shopping scheme with double vaccination, following a suggestion from Health Minister Robin Swann.
He had earlier said he could support making it a requirement for people to have two vaccinations before they could use the shopping scheme as an incentive to persuade more people to get jabbed.
A number of hospitals in Northern Ireland are struggling to cope with a surge in Covid-19 admissions, and the Belfast trust has said 60% of people admitted to hospitals in its area have not been vaccinated.
Stormont's Department of Economy announced the high street voucher scheme last year to support traders hit by lockdown restrictions caused by the pandemic.
People would be issued with pre-paid cards with a value of up to £100, which could be used in shops but not online.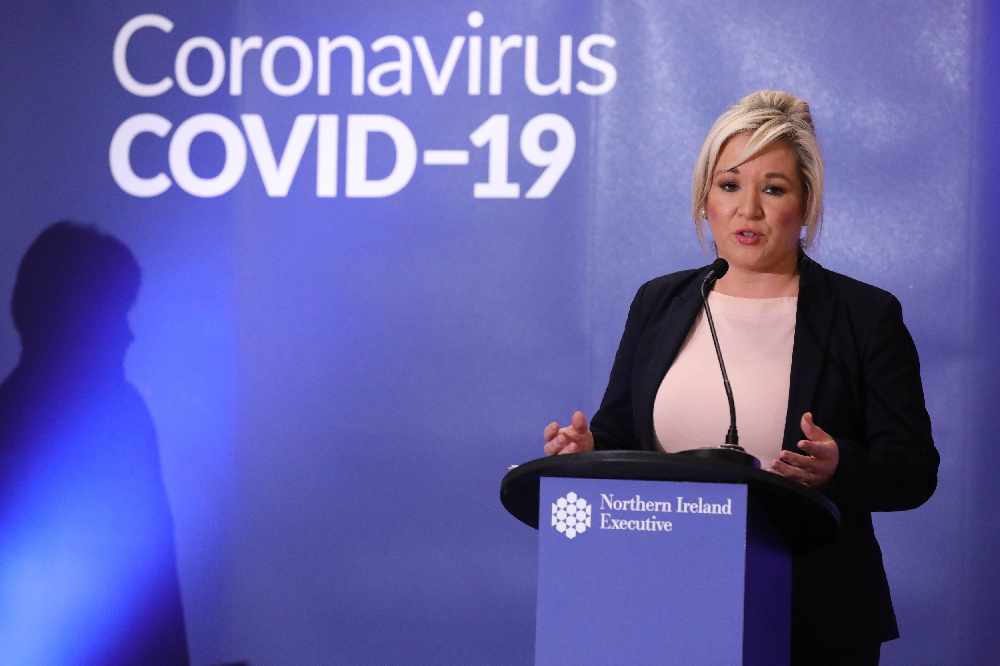 Deputy First Minister Michelle O'Neill
In response, Ms O'Neill said: "I think Robin perhaps misspoke this morning, there is no intention to link up the high street voucher and people taking up the vaccine.
"Obviously we encourage everybody to take up the vaccine, it is the best defence against Covid. It is the thing that will get us to the other side of this.
"On the wider picture of vaccine certs, it is something we (the Executive) are going to have to talk about. However, I would have real concerns, genuine concerns from a human rights perspective, particularly in terms of the inequality it can create.
"The Executive hasn't taken a decision on that as yet, but I can certainly say I would come at it from a very sceptical point of view. But we do intend to come back to it over the next number of weeks, over what it is that we can do.
"But I remain sceptical about making it an entry requirement."
Mr Swann has said he wants to have a conversation with Executive colleagues about how to incentivise people who have not yet received a Covid vaccination to come forward.
It came after Economy Minister Gordon Lyons rejected his suggestion to link the high street voucher scheme with a requirement to be double vaccinated.
Health minister Robin Swann
Mr Swann said: "I think part of the conversation is how to incentivise the further 17.5% to come forward and get the vaccination.
"I think Gordon has indicated it could put the high street scheme in jeopardy or delay it if that was an avenue that was to be pursued, and that is not something that I want to do, because I think the people of Northern Ireland have waited long enough in getting the high street voucher out.
"But there is an avenue of actually looking for incentives in regards to getting those last people to come forward.
"We have seen it at the SSE Arena where we have offered ice-creams along with vaccines, so it is how we actually take the next step."
Mr Swann added: "It is a conversation that the Executive has said in the past that they are willing to have.
"If the high street voucher scheme isn't a runner, I am content with that, but it shouldn't rule out any conversations in the future that the Executive could have in regards to incentivisation over uptake of vaccines.
"Our target is to get as many people vaccinated as possible and that is what we will continue to do by making vaccines as accessible to as many people as we currently can."
Mr Swann said large-scale vaccination centres would begin to be stood down in the coming weeks.
He added: "As we scale back we are then starting to deliver Moderna across our community pharmacies.
"We will see 18 community pharmacies some time soon picking up Moderna, and that will increase to 80 community pharmacies across Northern Ireland being able to deliver first dose Moderna, as well as the pop-up clinics we are seeing across Northern Ireland.
"Our vaccine programme isn't something we force upon people, it is something we ask people to do voluntarily."
Three more deaths of patients who had previously tested positive for Covid-19 have been notified by the Department of Health.
A further 1,473 cases of the virus have been reported in Northern Ireland, the department said.
On Tuesday morning, there were 243 Covid-19 positive patients in hospital, with 29 in intensive care.
In total, 2,215,383 vaccines have been administered.