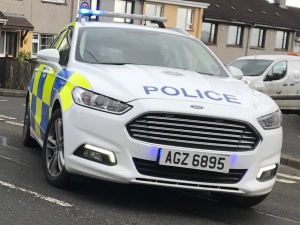 By David Hunter
Police have been attacked with paint and petrol bombs in Derry - Londonderry.
Twelve paint bombs and a single petrol bomb were launched in the Madam's Bank Road area at around 6.35 on Sunday evening.
No -one was injured, but a police vehicle was damaged.
The attacks follow similar incidents in the city on Saturday night, when up to 20 petrol bombs were thrown at officers.
Officers were responding to reports that two petrols bombs had been thrown over the city walls close to the Memorial Hall.
Up to twenty petrol bombs were then thrown at the PSNI by youths in the Fawn Street area.
A number of pallets were also placed on the street and set on fire.
The disturbances on Saturday followed the Apprentice Boys parade in the city, in which one band sparked controversy.
The group from Larne had a display of a parachute regiment emblem on their uniform, accompanied by the letter 'F'.
It refers to Soldier 'F' who's facing murder and attempted murder charges in relation to the events of Bloody Sunday in the city in 1971.