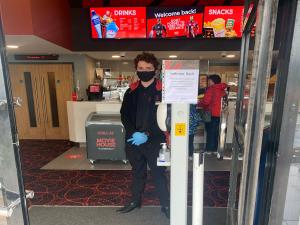 A member of staff at Movie House cinema in Glengormley
By Michael McHugh, PA
The reopening of Northern Ireland's cinemas attracted a steady stream of visitors on Tuesday.
Movie House Cinemas welcomed back audiences at its venues in Yorkgate and Glengormley in Belfast, Maghera and Coleraine.
New safety procedures included staggered showtimes so the foyer was never too busy, reduced seating capacity with space between customer groups, a temperature station at the front door and increased cleaning throughout all areas.
Owner Michael McAdam said: "It's great to be back. It's wonderful to see people coming out to watch movies again.
"I want to say a special thanks to our staff teams who worked so hard to bring in these new safety measures and who are looking after our customers and each other in such unprecedented times."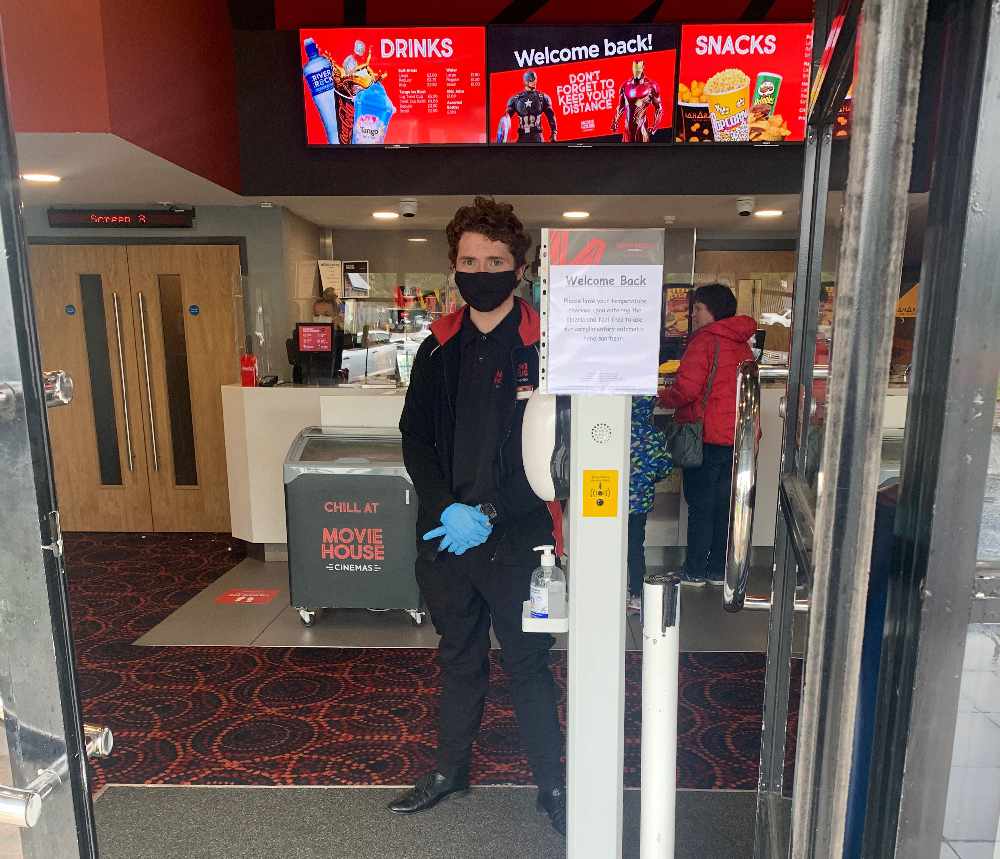 (A member of staff at Movie House cinema in Glengormley)
Many new releases have been delayed due to the coronavirus pandemic.
From Friday, there is a new animated family film called Dreambuilders and the cinema is also bringing back old favourites like Guardians Of The Galaxy, A Star Is Born and Dirty Dancing.
Alan Marlow and his five-year-old daughter Scarlett were at the first screening of The Empire Strikes Back, a special 40th anniversary celebration, on Tuesday at Cityside.
He said: "We love going to the cinema and we've really missed it.
"All the safety measures are grand and the temperature station is really good."
Lee-Anne McDade and her family had come to see My Spy as a special family treat.
"Everything was very well organised and laid out, it almost feels like normal," she said.